OVER 38,349 VERIFIED 5 STAR REVIEWS
OVER 38,349 VERIFIED 5 STAR REVIEWS
OVER 38,349 VERIFIED 5 STAR REVIEWS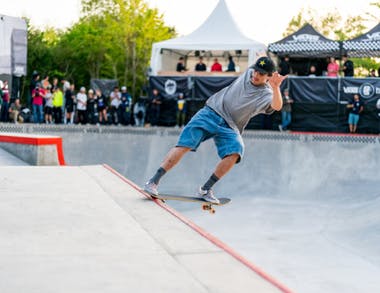 Route One at Vans Park Series - Paris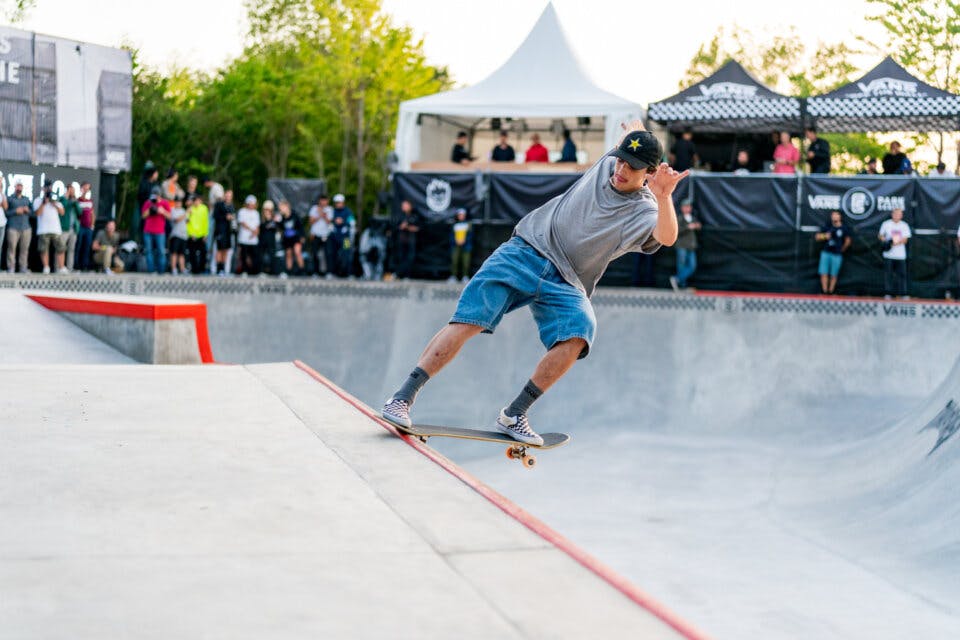 Thursday evening, ahead of the 4th stop of the Vans Park Series, we stepped of the plane at Paris Charles de Gaulle Airport. Having been invited by Vans to witness the competitive two-day event, we were beyond stoked to be there! Despite only being across the Channel the heat slapped us around the face as we descended the stairs of the plane in what can only be described as a true, Parisian, summer evening.
This feeling quickly wore off when we woke up on the Friday to a dreary French skyline which caused the events of the day to be pushed back into the evening. Having some time to kill in the morning, the Vans team took us on a tour of the incredible Père Lachaise cemetery where we got to see the famous grave of the Doors lead singer, James Morrison.
As the clouds began to separate, we were herded up and jumped on a 30-minute private shuttle bus that took us to the Cosanostra Skatepark where the Park Series was being held. As we arrived there was team using flame throwers and leaf blowers to dry the bowl in order to enable all the events to go on as planned. During this time the skaters were practicing in the indoor area whilst spectators were given the opportunity to print their own laces, with the help of Lovenskate Stu, and play games in order to win prizes!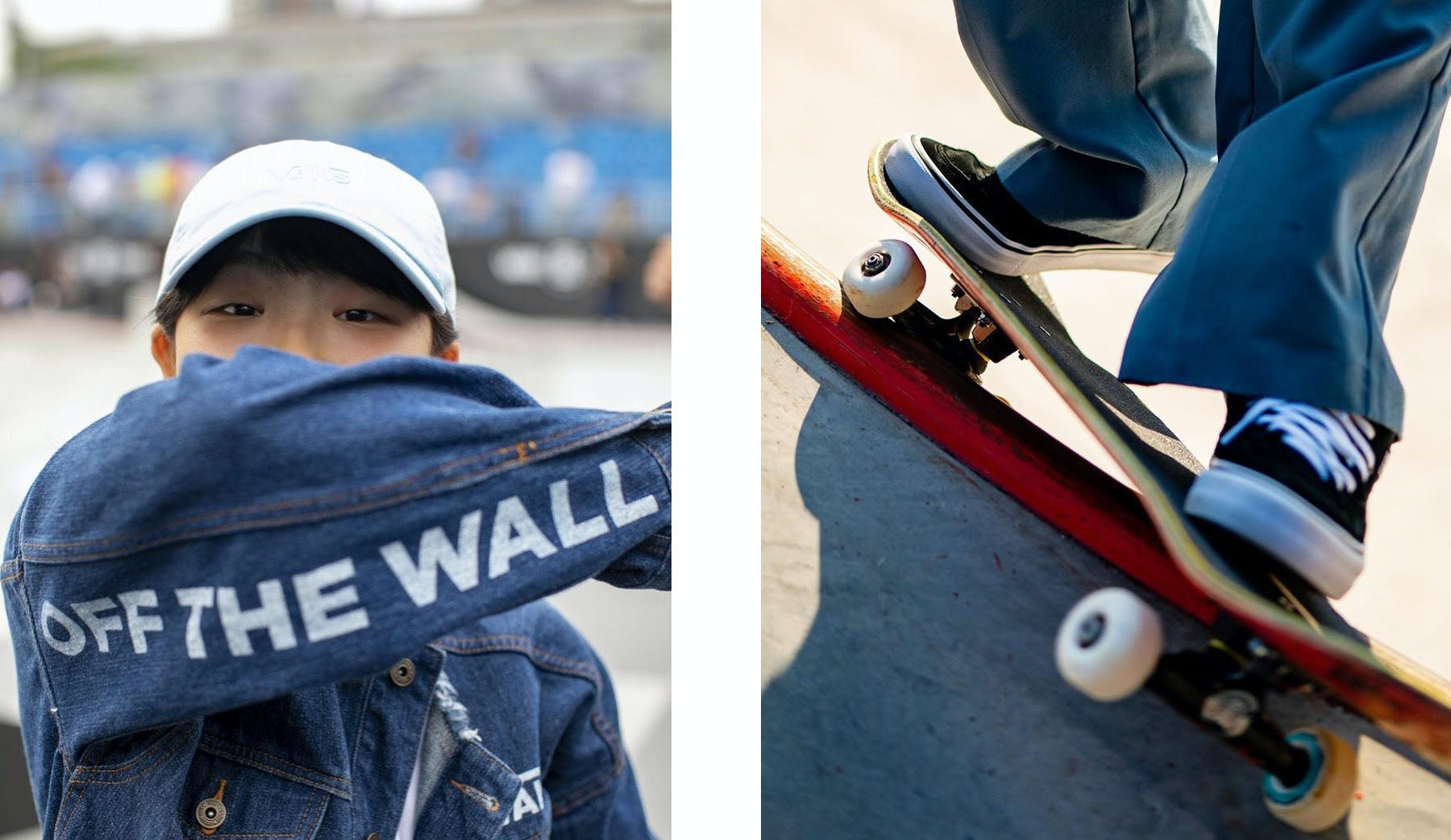 As always with Vans events, Steve Van Doren was there meeting attendees, posing for photos and handing out freebies to anyone that approached. The constant smile on his face helping lift the morale of the rain drenched spectators, as they prepared to dodge the puddled approach to the recently built bowl. Other VIP's included Tony Hawk (who commentated from the box for individuals watching online), Christian Hosoi, Greyson Fletcher and Danny Wainwright to name a few!
The Vans Park Series has bought in 700 skateboarders from 39 different countries who are all competing to win a slice of the $800,000 prize fund, which is spread across championship contents in 5 different countries. All the skateboarders have one goal; secure a position at the Vans Pro Skate Park Series World Championships in Salt Lake City, on September 6-7.
On Friday's semi-finals, big players in the women's category included Japanese skater Cocona Hiraki who came first with a score of 84.09 at the age of 10. Other notable qualifiers included Mami Tezuka, also from Japan, who used the Vans sign in the middle of the bowl as a prop to axle stall off to secure a score of 80.20. As well as Australian born skater Poppy Starr Olsen who finished 3rd in the semi-finals with a score of 79.50.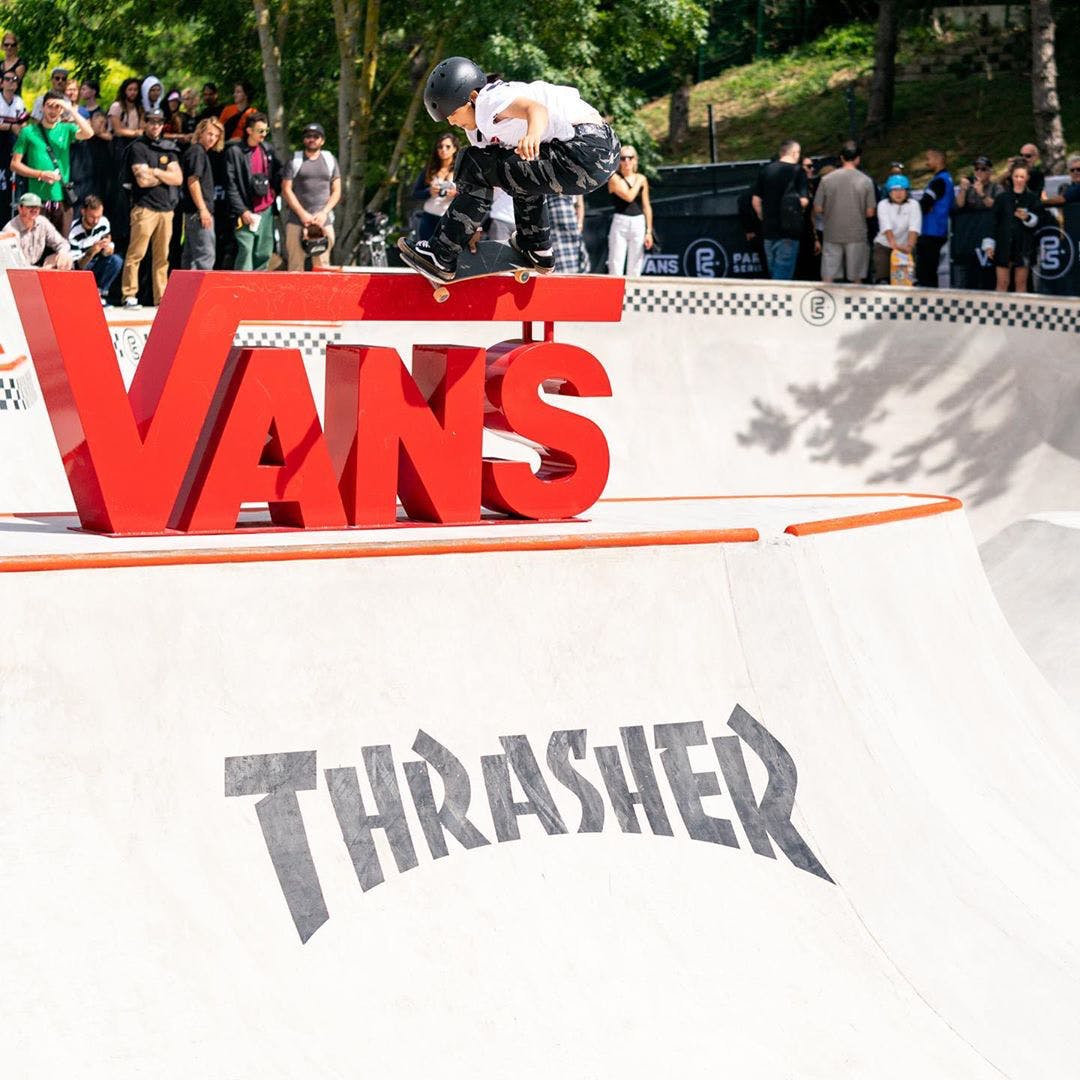 This was followed by the men's semi-finals, that due to the mornings rain went on until late into the evening. Cory Juneau secured 1st place at this stage with a score of 86.50, despite his six-month ban earlier this year due to testing positive for THC, he is still ranked seventh in the world. Followed by fellow American Roman Pabich who earned himself 84.83 and then 16-year-old Australian skater Keegan Palmer with a score of 83.07.

Post semi-finals we all rush to get to the Ben Horton Exhibition at the Espace Gallery, here there are a selection of prints on display that have been created especially for the Vans Park Series in Paris, they are available to purchase and start at 100 euros. At the exhibition there was a fully stocked bar which was being tended by individuals wearing full vans outfits. Participating riders, Vans employees, press and invited guests all socialised like old friends into the early hours of the morning, discussing times in which they have crossed paths during similar altercations in the past.
The next day we woke up to the finals, first being the women's that began at 1pm, 4 rounds – your best score counts. Ten-year-old Cocona takes first place with a score of 87.50, her age inevitably means nothing with Lizzie Armanto coming second, despite being 16 years older. Armanto put up a good fight none the less drawing on her extensive range of skills to secure a result of 84.03. Men's 1st place was won by Cory Juneau with an impressive score of 86.60, this was his first 1st place finish after coming second in Montreal last month. French rider Vincent Matheron came second with 86.03 and it is safe to say he was a crowd favourite, as an uproar of cheering could be heard when his second-place win was announced. Overall the standard of competition was insane, and all riders should be pleased with their efforts.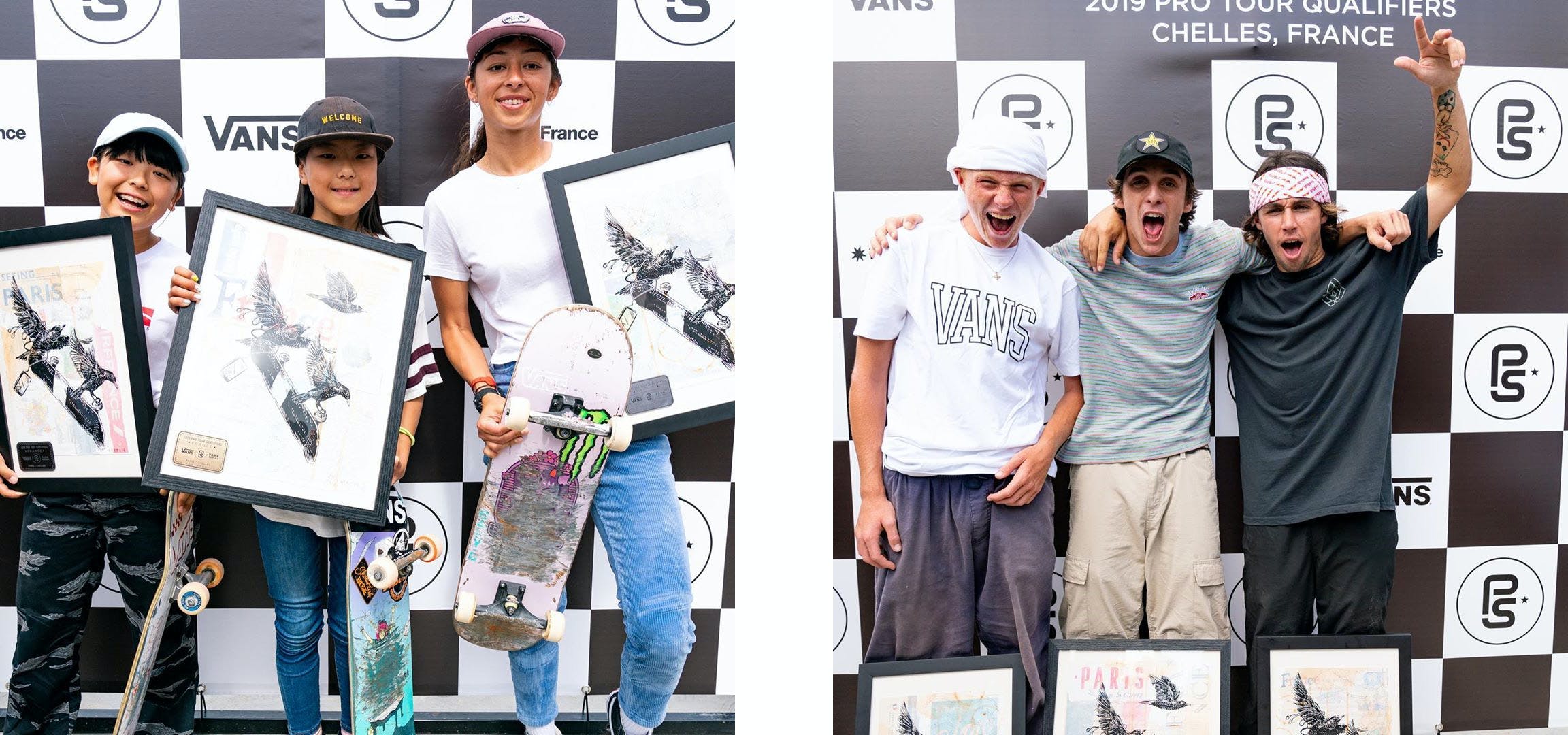 From left to right; Mami Tezuka, Cocona Hiraki, Lizzie Armanto, Roman Pabich, Cory Juneau and Vincent Matheron.
The weekend ended with an intimate dinner where attendees included Steve Van Doren and competing riders as well as Vans employees and their guests. This was followed by the Park Series After Party in which there was a screening of Geoff Rowley's 20th anniversary edit in conjunction with Thrasher Magazine. The film included footage of the late Jake Phelps and Ben Raemers so it is safe to say emotions ran high.
Overall it was an incredible few days, in which we at Route One feel extremely privileged to have been a part of. Shout out to Vans for looking after us all weekend and making sure we were present at this special series of events.
All images sourced from @VansParkSeries, by Anthony Acosta @aacostaa