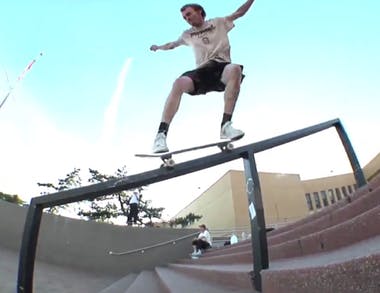 More in the line of unofficial remixes, this time in the form of Alex Olson's New York based (917)692-2706 brand and the team's ever so stylish group of riders.
Prior to the company's formation and approximation of NYC gay culture, 90's house music and skate footage were veritable chalk and cheese characters. Not that you'd know it now seeing as though virtually every hip scene clip of the past twelve months is now following his lead. Olson really is ahead of the curve and though every single facet of this vid may seem current and typical of the zeitgeist, you have to remember it was Alex that brought these ideas to you in the first instance!
Hip happenings and trend setting styles aside, the greatest joy to behold in this clip has to be the crazy footage of Big Apple scene stalwart 'Loose Trucks' Max. When your name is preceded by the term 'Loose trucks' you know you're one of life's winners and Max Palmer really is that; landing simple tricks with the sketchiest of feet whilst still looking like a badass is no mean feat, we're sure you'll agree! 
Sign Up...
For Priority Access to Releases, Deals & Offers
Your cart is currently empty.