Triple Threat noun
1. The definition of a triple threat is someone in a particular field who exhibits three skills that are necessary to excel.
a. An example of a triple threat is a football player who is great at passing, kicking and running.
b. An example of a triple threat is a person in theatre who can sing, dance and act.
Dave Willis - Skateboarder, Rapper, Entrepreneur; a modern interpretation of "Triple Threat" for a generation where everyone's got their hustle on.
22-year-old Dave Willis, aka Black Dave, is part of a new breed of Hip Hop renaissance men who's vision stretches far beyond a traditional recording career. Not only is Bronx-born Dave one of the most hyped young MC's in the game he's also a truly gnarly skater and one of Zoo York's brightest next generation stars emerging from their 20 years in the game.
I first met Dave a few years ago, when he started working at the Supreme store in NYC; he's always been one of those dudes who gives off such positivity and who's genuinely stoked to be living the life he lives. I've seen his skating progress and his rap career blow up. From his debut "Black Donald Trump" to last years massive "Black Bart" mixtape and turning Am for Zoo York, the future looks bright for both Dave Willis the skateboarder and Black Dave the rapper.
On a recent trip to NYC Dave invited me to spend a sunny, but cold, autumn day hanging out in the city. We started our day in Harlem and soon bumped into After Midnight's Akira at the new Hamilton Bridge skatepark where we got promptly kicked out as the park was yet to officially open to the public.
Being kicked out of spots is an everyday occurrence in skateboarding, so after a few location busts and with natural daylight fading fast, we all hopped into lensman Pete's badass '96 Acura Integra and headed downtown to Mandino Headquarters to catch up with Dave on skating, rapping and everything in-between…
Are you New York born and raised? Yeah, New York City born and raised; originally from The Bronx now living up in Harlem. All the elements of New York City have been involved in what I do now. Growing up there weren't really a lot of good spots to skate (or any skateparks at all) but we made do just pushing around the streets. I formed a little clique of homies who made our own independent videos which is kinda how I got to doing what I do now.
How much of an influence were the Zoo York Mixtape videos growing up? That was my influence every day! I still watch those videos even more so than a lot of the new videos that are coming out now; shouts out to RB and the O.G. Zoo York crew! Watching guys like Harold Hunter, Danny Supa, Robbie and Jimmy, Peter Bici, Jeff Pang, those are real core old skool New York skaters. That makes me feel blessed to be a part of what they created and I gotta go hard to keep their spirit going on because they represented my city and I gotta do the same.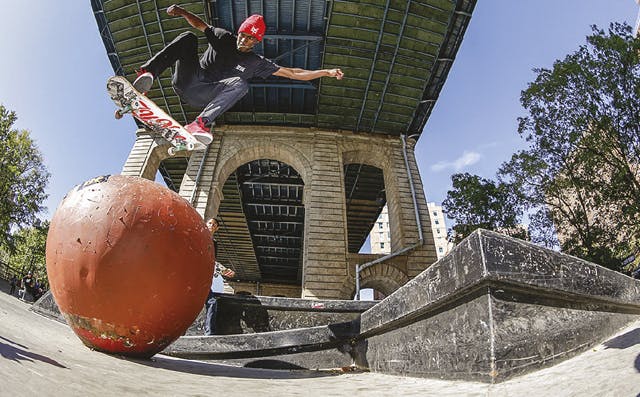 Did you know Harold Hunter personally? I met Harold at Thompkins, a couple of times, when I was younger but didn't really know him personally as I was really young when he passed. He is definitely my biggest influence; out of anyone, I look up to Harold a lot. His acting, his skating, his personality, his energy; any city he went to felt 'New York'. Rest inpeace.
How did you hook up with Zoo? I was just skating around New York City and putting out my independent videos and Zoo York reached out to me with "Yo Dave, whatcha doin'? We wanna flow you some boards" so I was on flow for about three years, not really going on any trips but just skating, doing contests and still keeping up the independent grind while representing Zoo York. I kept a positive outlook and started going out with the team then they turned me Am. I'm definitely trying to keep that going as Zoo York represents my city.
Are you planning any more trips or filming with Zoo? Just this past year we went to Chile which was amazing. Los Angeles and Pittsburgh were cool but Chile and Argentina on the South America trip were huge; that was my first time travelling out of the country with skateboarding and seeing how huge it was out there. Those kids didn't have anything; they had rags and dusty-ass boards but everyone was skating really hard and they were psyched on our energy, it was sick. I was out there with Chaz, Travis Glover, Brandon Westgate and the Zoo York crew, it was dope.
Does skating with those guys make you raise your game? Hell yeah, those guys are amazing! The whole team are all so humble and they just do everything first or second try, it looks effortless. I look at that and think "Damn, time for me to step it up". I'll hype them up but definitely feeding off those guys energy is huge.
It must have been a buzz to see those kids going wild for you guys. It was crazy man. Travis and I bought a different kind of element to the trip as you had Chaz and Brandon, the two Pros, and us two as young kids on the come up so a lot of kids related more to us. It was nice to sit down with those kids and see how motivated and passionate they are about skateboarding. Like I said, their boards were terrible so we gave away as many boards as we could to the kids.
You've been down with Supreme for some time – how did you get together with that crew? Supreme is a family. It was just skating New York City with those dudes – Charles Lamb, Ty, BB, Josh, the whole crew. They just took me in as a young skater and started giving me griptape, hooking me up with hats and stuff then they just asked me to work there. I still do some work for them and they're cool, they show a lot of support. They too represent the culture of New York City. It's huge now with the European webstore and the shops in London and Japan but it started in New York and that's where I'm from so I definitely support Supreme and they support me.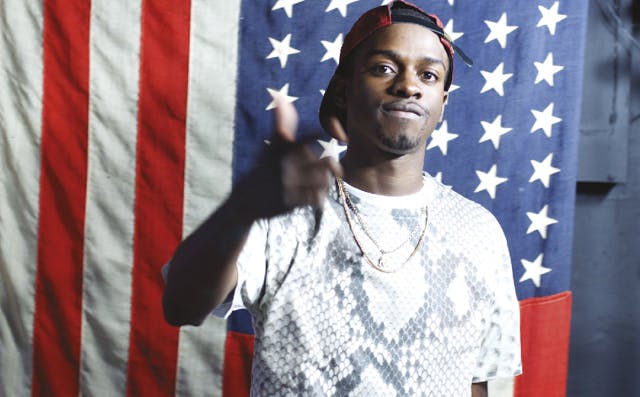 I noticed you were reppin' The Hundreds on your recent trip to LA… They saw what I was doing and reached out. The Hundreds are really big over in LA and tap into music projects so when we had the "Smokers Club" tour they offered a spot like "Yo, we'll bring you guys out here, rock the gear and do a video with us". When we went to the warehouse in Cali they laced us all up, we met Bobby Hundreds and the whole crew who all came to the shows, it was dope. They got us a place to stay and transportation so shout out to The Hundreds!
And you also popped up in a clip for Been Trill lately. I'm cool with Virgil, Matt Williams and Heron Preston who have all been supporting my music for a minute. They put one of my songs on their mixtapes called "In The Field" alongside Kanye, Migos and a lot of big artists so they reached out to do a little video with the song and me rocking the gear… Been Trill are showing a lot of love. A lot of people were f**kin' with the video man, Been Trill have kinda got the streets on lock with the young streetwear kids and the music game doing projects with Travi$ Scott and Chief Keef, so I'm trying to keep things cool with those guys too.
Who are your sponsors right now? Nike SB, Zoo York and Supreme. Shout outs to The Hundreds and Been Trill though too. I'm working with Been Trill on a new project like a skate partnership deal to maybe be one of their first skaters who promote them but right now it's solidified with Nike, Zoo and Supreme.
Do you have any upcoming video footage this year? Yeah I definitely have some footage in the Supreme video and the Zoo York video entitled "Kings" which is all New York based skating. Zoo are always getting me out filming and trying to progress, so I have a lot of footage in that one. After this video I'm going to put out my own full part (with ZY) based around travelling as I'm just starting to see the love people show us out of the country, which is sick.
How do you feel about the cultures of Hip Hop and skateboarding becoming much closer over the past few years whereas a decade ago they couldn't be further apart? So true… It's crazy as when I was growing up skating, way before doing music, the skate industry kinda frowned upon people who stepped out of the box (from skating) but now everything's so diverse; artists putting skating in their music videos, people like Lil' Wayne skateboarding; it's huge. I respect that though, as I'm diverse (being from New York City where everyone's doing everything) but I stay true to what I'm doing, which is skateboarding and Hip Hop.
I definitely got hella respect for people like Lil' Wayne and Terry Kennedy, who's another one to step out of the box. You can't really hate on those dudes 'cause Terry is an amazing pro skater who's music was going hard and I see Wayne's footage and every week he's getting better and better. As a skater I know that's hard to just step on a board and get good immediately. I've never met him but I know people who skate with him and he skates more than them! He's motivated, he grinding and for a dude who's in his thirties it's hard to just pick it up and stay at it like that when you have so much other stuff on your plate; that's respect right there.
When did you realize your rap game was starting to blow up? I knew what I wanted to do and think I've maybe done about a quarter so far. Just to see my vision start to come to life after just a year-and-a-half to two years is dope, but I'm hard on myself and a hard worker so I'm gonna keep grinding. I'm psyched people are listening to the music, buying into it, coming to the shows and knowing the lyrics. I don't really see it as blowing up I just keep going and not slack off, same as the skating. I never feel like "Oh I did it" 'cause I ain't done s**t yet, I'm just a young 'un who keeps grindin' ya know what I'm saying. There's always something you can do to better yourself and progress whether it's skating, music, arts, sports or business you can always take another step and keep going.
Something else I do want to tap into is clothing. I got the merchandise at my shows for Stone Roller Skate Gang; my crew of homies who I grew up skating with and are starting to tap into music now. Stone Roller because every move we make is on the concrete.
So who's in the crew and what are your plans? Deep, Blood, William Wilson out of Brooklyn, Slicky Boy a young MC from LES, all my close homies. When I said I'd start a crew I wanted it to be my "Day One" n****s, they're the people who are always gonna stay loyal to you.
The next artist, who's like my little brother, is D Stunna. He's like a young Juicy J; he got those hooks on deck. He's on my new mixtape, he does all the shows with me and is in all the videos. He's working on a lot of stuff so look out for D Stunna in 2014.
Does everyone in the crew skate? Everyone in the crew skates, that's a necessity, if you don't skate you can't be in the Stone Rollers crew point blank. Once it really builds up (for the day one dudes) Stone Rollers can expand to BMX, art, whatever your hustle 'cause you're just rolling.
It's good to see an MC blowing up and taking their OG crew up with them… Exactly! I'm cool with those guys you mentioned earlier; the A$AP dudes, Pro Era, Odd Future. I was on the "Smokers Club" tour with Joey Bada$$ and Pro Era. Under Achievers are another group out of NY who are doing it right now. I look up to all of those dudes and get a lot of advice. Everyone supports each other, tweets each other's music, comes to each other's shows, do features on each other's tracks.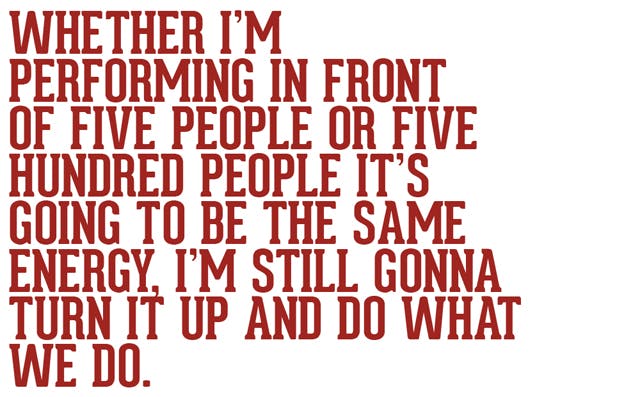 Are the shows getting bigger as the love spreads? For sure man, the Smokers Club Tour were the biggest shows I've ever done – all sold out. Even though we were opening there were people in the crowd who knew my lyrics and had the merch on deck, it was crazy! Whether I'm performing in front of five people or five hundred people it's going to be the same energy, I'm still gonna turn it up and do what we do.
Which MC's are you rating right now? I find something every day. There's so much new talent out there with World Star Hip Hop, YouTube, Hot New Hip Hop, Hypetrax and Hypebeast always posting these ill new artists and I'm like "man this dude's dope, he's got talent". I listen to Chief Keef, TE, Kendrik, Pro Era, Under Achievers, my homie GrandeMarshall from Philly who's really dope, Vinny Chase… I could go on for a minute.
I like how everyone's got it going on, keeping it in-house and has it's own culture kinda like New York had years ago with the whole CNN movement, Dipset, Terror Squad, Wu Tang – everyone had their own look, their own chains, their own logo, their own swag and their own style of rapping and that's what it's becoming again so history repeats itself.
It feels like quite an exciting time for Hip Hop with new MC's emerging and the whole culture becoming more creative and diverse. It's really easy for rappers to start copying whatever's hot, but everyone seems to be doing their own thing right now. It's dope. Hip Hop is definitely becoming something that people like me can actually come up and not be looked at like "Yo, this dude never caught nobody so how does he rap" because it's not about that anymore it's about being your own individual. I feel like I have a lot to say to the youth, about what's going on in the world today; but also incorporate skateboarding, my life, my experiences, the good, the bad, the ups and the downs. Things I feel very strongly about, things l hate – it's definitely an outlet that skateboarding can't do without looking like a kook so I can say what I have to say but also stay productive with it.
What inspires you to write? Pretty much every day things inspire me. I could be on the train and see something or hear some kind of sound or beat (which couldn't be even close to Hip Hop) and get a vibe and start a melody. I could see something real grimy in New York and start writing about it or just being with the homies and just feeding off something someone said; a lot of songs came off something like that actually.
My last single called "Million Man March" is about police brutality, young people dying by killing each other for no reason and all the crazy stuff going on. The chorus goes "It don't matter the colour of your skin, where you're from or wherever you've been" and when we do that at shows everyone comes together and I bring a bunch of people onstage, maybe jump into the crowd so it's a group love thing but I'm also expressing how I feel.
After the great reception from your mixtapes when can we look forward to a Black Dave album? Thank you for saying that about the mixtapes – the first one "Stay Black" I recorded in my bedroom and the second one "Black Bart" we did some more professional studio time. This has all happened in about a year and giving out free music is definitely something that I love as a fan and I know how important the web is but I do want to release a full album in 2014.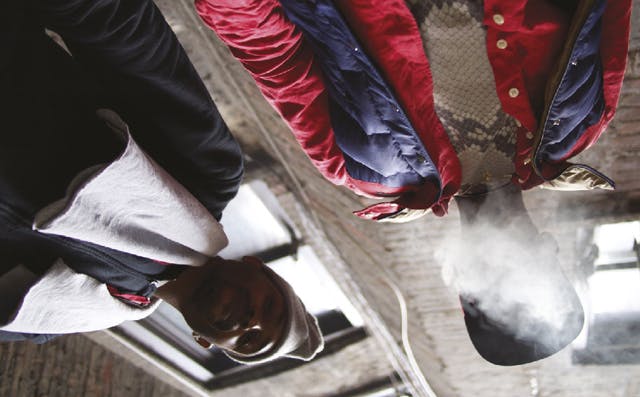 Do you have any plans to visit the UK this year; either skating or performing? I would love to come to the UK. I actually don't have anything lined up but every day people are saying "Yo, come to London, come to the UK". Supreme is out there, I have my Palace Skateboards family, that's my crew; shout out to Lucien Clarke who's doing his thing right now, he's a good homie of mine.
I'm just gonna keep expanding, keep in with Route One – you guys are definitely supporting me so hopefully I can come over there to perform and turn it up for the skaters, the girls, the Hip Hop and all that. Plus I'm Jamaican and there's a big West Indian culture in London so I gotta come see some of my Jamaican family out there.
Finally, what does 2014 have in store… Expect a full-length project from me, new Stone Rollers music, more visuals, more collaborations, more shows and hopefully coming out to London and turning it up soon.
Shouts out to Route One for all the support and all the people rockin' with me: Zoo York much love, Supreme much love, my homie Ross at Route One, Peter rockin' with me on the photos, let's do it!  Oh, and all the London ladies get at me – I'm single haha!
Interview: Ross Wilson
Photography: Peter Pabon