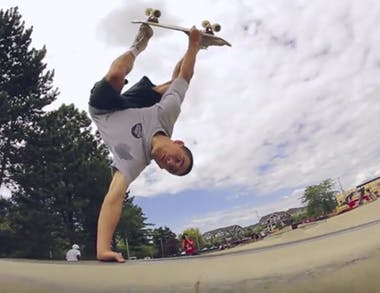 Erick Winkowski 'Right to Exist'
There was a time when, alongside the infinitely more clean cut Powell Peralta, Santa Cruz Skateboards ruled the roost in both board sales and capturing the zeitgeist of planet skateboarding. Though those days are little but a distant memory to aging aficionados, with the new team of modern day rippers the brand has assembled, there's no denying Santa Cruz' stock is most certainly on the up!
Top of the pile in terms of new breed talent comes, somewhat ironically, in the form of 80's vert inspired ripper and San Diego loc Erick Winkowski and it's through him we're sharing the stoke with you know. 'Right to Exist,' the latest full length opus from the brand, premiered last December and for those who didn't see fit to purchase the video on its release, the usual interweb sharing has begun in earnest.
For any of you familiar with the fish tailed warrior's approach, the feats contained within will come of little surprise; you know how good the lad is and how much he rips those old school shapes. For those of you less fortunate and new to the world of young Mr Winkowski, prepare yourself for a lesson; you're about to get schooled on what it is to shred...
Sign Up...
For Priority Access to Releases, Deals & Offers
Your bag is currently empty.