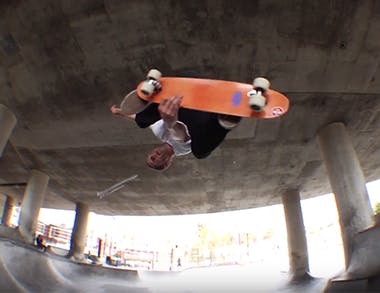 Extra Flare: Raven Tershy
Truth be told, we weren't really planning on writing about another one of these Lakai 'Extra Flare' clips for a while; we've covered pretty much every one that has come out and we're not really ones for pushing something to overkill levels (and we're waiting for the Riley Hawk one especially!) but then out came Raven's and that idea was dropped like a worm riddled apple!
When a clip starts with a nose grabbed backslide tail slide round FDR's infamously difficult clam shell, you know the skater means business. Maintaining his grip as one of the world's premier all terrain rippers, Chocolate family member Raven lives up to his hardcore Santa Cruz, CA roots with an insane collection of mind blowing stunts, mixing up not only the terrain but his mode of transport (you'll have to watch it to see what we mean there).
Given the quality of these 'Extra Flare' parts there's every chance we're not going to keep to our decision to hold off on sharing any more until young Mr Hawk pops up but can you really blame us? When the skating is this good it'd be a crime to keep it to ourselves!
Sign Up...
For Priority Access to Releases, Deals & Offers
Your bag is currently empty.