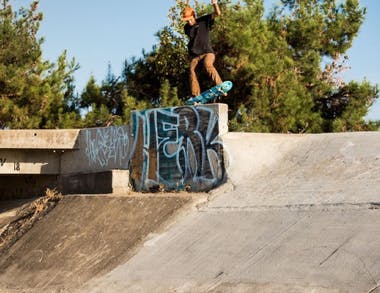 Jerry Hsu 'Made 2' B-Sides
We try to remain as unbiased as possible here at Route One, sharing a wide range of clips and not focusing too much on any one brand. So, truth be told, we figured we'd flogged the Emerica 'Made 2' promotional horse quite enough and were unlikely to showcase another piece of theirs, for a little while at least. Then they had to bloomin' go and drop Jerry Hsu's amazing B-sides clip on us, didn't they!?!
Jerry Hsu has to be one of the greatest skateboarders ever. Though it's easy to say that about a whole host of characters, and justify your position somewhat, Jerry is just so god damn amazing (and hard working) we can't help but be in constant awe of him as both a skateboarder and a human being.
The tricks he does are insanely hard and groundbreaking, granted as are most tricks we see from professional skateboarders, but they're insanely hard for him too; Jerry isn't afraid to take horrific slam after horrific slam, sometimes visiting a spot numerous times just to roll away from those biggest of personal battles. This B-sides clip showcases that perseverance, as well as many a majestic roll away from the most unfathomable of manoeuvres. Jerry Hsu, we salute you!
Sign Up...
For Priority Access to Releases, Deals & Offers
Your bag is currently empty.