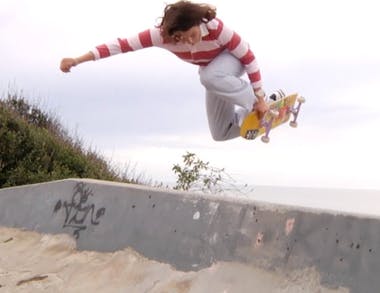 Rough Cut: Nora Vasconcellos 'Seance' Part
Everybody's favourite purple pant wearing, transition terrorising kooky character Nora Vasconcellos starts the new decade right, getting the 'Rough Cut' treatment from the boys over at Thrasher and showcasing just how much commitment and effort went into her part in last summer's excellent 'Séance' vid from Welcome Skateboards.
Never one to be afraid of a meaty slam, the Boston MA native proves yet again just how vital her existence is in skateboarding in 2020. Bringing the goofy fun of Lance, the commitment to personal style of Greco and the all round sickness of nobody but herself, Nora epitomises everything that is great about skateboarding better than pretty much everyone else out there right now.
We could talk about her skating Drehobl's ditch faster than Drehobl, styling backside airs better than anyone since Hosoi or gapping corners in a way that would make Trujillo jealous but what's the point? Everyone knows how sick she is so you've probably already sacked off reading this and you're now half way through the clip!
Sign Up...
For Priority Access to Releases, Deals & Offers
Your bag is currently empty.