We at Route one see uncountable amounts of decks from our selection flying in and out of the warehouse and our stores, so we decided to put together an eclectic mix of our favorite 5.
1. Zoo york (kings series) Harold Hunter
Zoo York first appeared on the skate scene in 1993 by co-founders Rodney Smith, Eli Morgan Gessner and Adam Schatz. Hailing from  New York city it organically carried a heavy hip hop and graffiti based aesthetic to it's graphics and creative direction. Harold Hunter first appeared on the wide spread media in America when he featured in a 1989 issue of Thrasher magazine that ran an article on the skate scene in the 'Big Apple', later in his career he starred a leading role in big time Larry Clark movie (Kids), which followed the lives of teenagers around New York. Harold Hunter unfortunately passed away in 2006, this board celebrates the greatness of Harold that lives on today.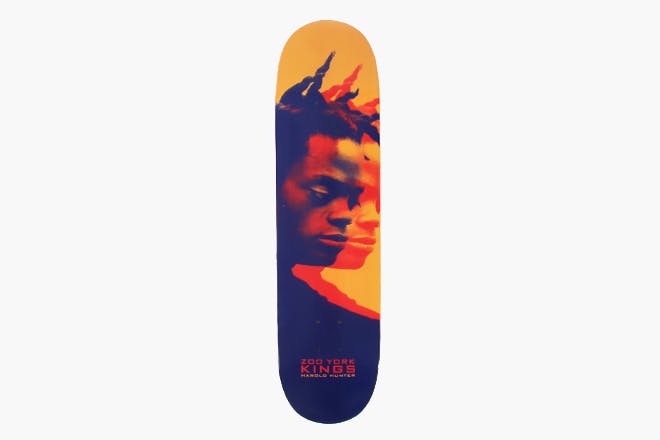 Mark 'Fos' Foster created Herion Skateboards from Humble beginnings. Sprouting from rural Lancashire, but keeping his nearest local town Burnley close at heart, he has brought his company from strength to strength and is now proudly representing Great Britian over in the States. Most famously known for his horror movie like art work, he now has his work commissioned across big brands such as Altamont, Baker and Deathwish. Always coming up with original ideas, this 'Ditch Witch' board looks great and probably skates amazing for all you barrier huggers and crusty ditch lovers.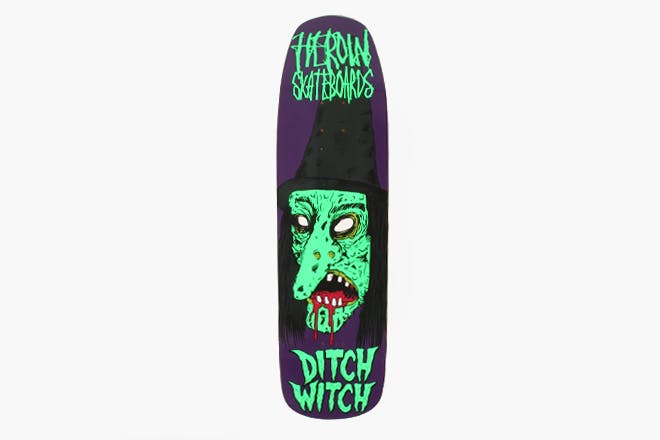 3. Powell Peralta - Rodney Mullen
In 1978 George Powell and Stacy Peralta came together to form what was to be the biggest and most innovative skateboard companies to ever exist, and so Powell Peralta was born. George and Stacy produced some of the best technological advances to skateboards, not only that they pulled together one of the best skateboard teams in existence, the 'Bones Brigade'. 90% of the Bones Brigade team pioneered skateboarding and went on to be the most influential skaters of all time, well known riders such as Tony Hawk, Danny Way, Guy Mariano and Rodeny Mullen are just a few to mention from the list. Rodney Mullen single-handedly invented most of the flip tricks people do today, such as the Ollie, kickflip and the Ollie Impossible. These days Rodney continues to skate but can also be found giving TED talks, running his successful skate brands and showing huge interest in maths, physics, classical music and engineering.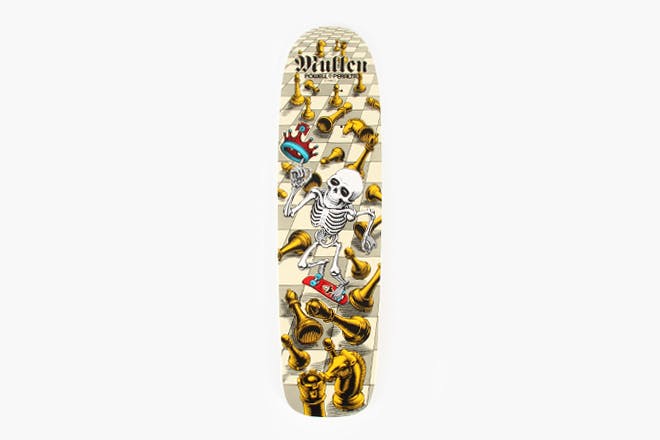 4. Enjoi - Ben Raemers pro Model
Ben is one of the loveliest humans you will come across, currently residing within the realms of London he originally lived in sea side town Walton-on-the-Naze, then later under the wings of Mark Munson and Carl Wilson in Ipswich. Being an Essex lad at heart he popped on to the American scene as a sprightly  young Am full of English pride and determination to land tricks Mark and Carl drilled in to him via the medium of "harsh banter"... A.K.A "Land it you mug!". With countless video parts, smashing comps, 2 Thrasher covers and so much more Ben has been rightfully knighted with this well earned pro board.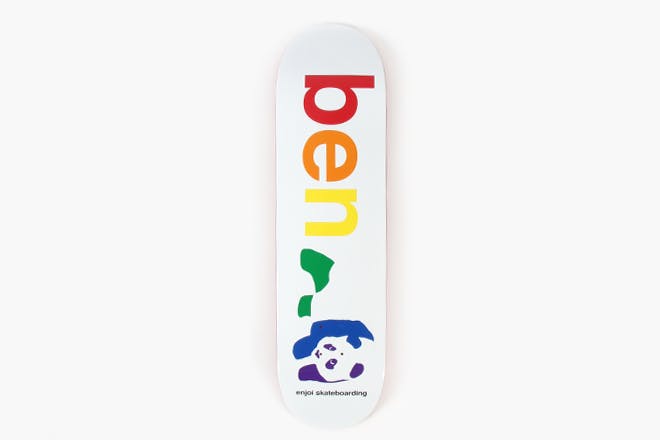 Springing out of the eccentric mind of Swedish entrepreneur Pontus Alv, Polar skateboards is currently standing at the forefront of European skateboard brands and gaining huge popularity over the pond too. Bringing exciting new graphics and videos and collaborations every other month it's steadily becoming our favorite board brand, and with the team line up it's boasting that alone is enough to convince any one of it's brilliance. Yorkshire man Jerome Campbell is a proud owner of his very own pro-model on Polar, wood from generator woodshop, graphics by Jacob Ovgren and tricks by Jerome, this 'Blender get away' graphic is a banger!