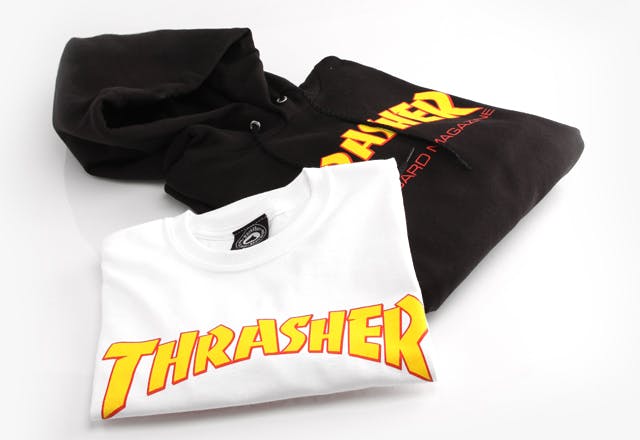 Spring 14 has already witnessed some amazing collaborations between brands such as Lakai x Earl Sweatshirt and Carhartt x CRV WKD, to name but a few, and now we are excited to announce that we have recently teamed up with skateboarding heavy hitters Thrasher Skateboard Magazine to produce a limited edition, Route One exclusive "Skatemag" logo t-Shirt & pullover hood.
The brief was clear from the start, with an aim in keeping the design and colour true to Thrasher's roots. This led us to search through the magazines' back issues for inspiration. We finally decided on this classic colourway used in the December '99 issue, which you can see below.
Thrasher are renowned for their sturdy, heavyweight products and this collection is no exception. The hood is comprised of a mixture of 90% cotton and 10% polyester and the T-Shirt is 100% pre-shrunk cotton, ensuring that these garments will withstand the rough and ready treatment that follows the Thrasher lifestyle.
Both items are available online and in our stores now!  Be sure to grab yourself one while stocks last.