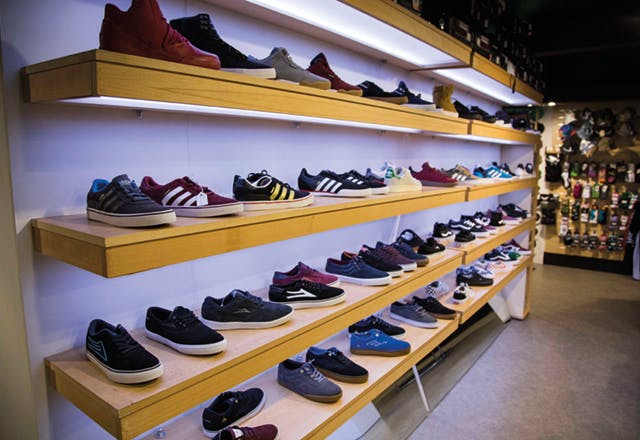 In each issue of the Route One Magazine we visit the cities, which are home to Route One retail stores and the personalities who work there. Our store managers will take you on a tour of the spots, they feel make their town awesome, to bring you a true insiders guide.
In this issue we spend some time with Steve, manager of our Route One store in Bristol, exploring his favourite spots throughout the city.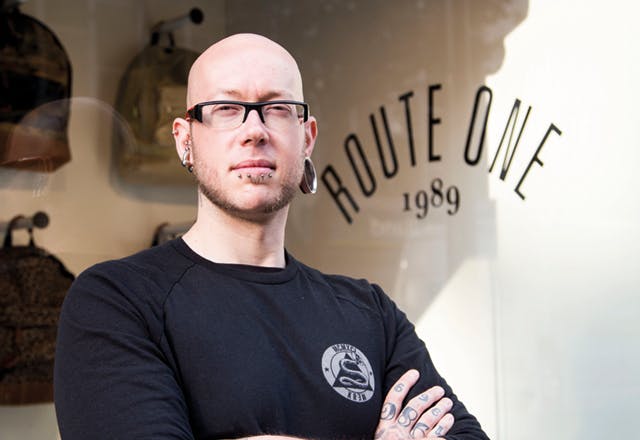 ROUTE ONE
85 The Horsefair
Bristol
BS1 3JP
I've been working with Route One for the past twelve years, during which time I've run most of our retail stores across the UK - Bath/Brighton/ Edinburgh/London and now Bristol.
Since the beginning I've not only managed the stores but also been involved in many Route One events including skate/BMX/blading, festivals and gigs. Even as a kid I've always traveled and moved around - there's too much to see in this world to stay in any one place for long! When I'm not in Bristol, you can often find me getting tattooed/pierced at 'King Of Hearts' in London, or bar hopping around the Kreuzberg neighbourhood in Berlin - my home away from home. Outside of Route One, I'm studying French, German & Mandarin Chinese.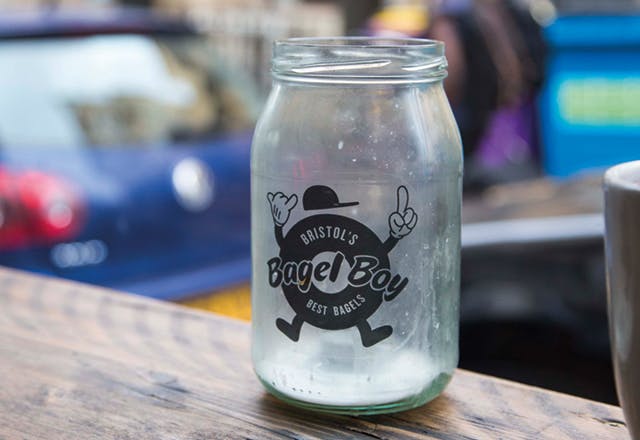 BAGEL BOY
39-41 St Nicholas Street
Bristol
BS1 1TP
Bagel Boy is already a Bristol institution despite only recently celebrating their 2nd birthday, with a great party supported by The Hundreds and Tapatío Hot Sauce. If you're in Bristol be sure to check them out at their home on St Nicks Street, or you can find them on the festival circuit in their awesome converted "Winnebagel" van. Alongside the lunchtime classic 'New York Boy' (salt beef/pickles/mustard), we're also fans of trying the gnarliest options on their menu such as 'Hot Boy' (beef/bacon/jalapeños/hot chilli mayo) and 'Baa'd Boy' (spiced lamb/feta/cucumber and red onion 'slaw/hot chili mayo). Bagel Boy isn't only a lunch spot. After a heavy day at Route One Bristol it's good to chill after hours with their bagel/fries/beer deals.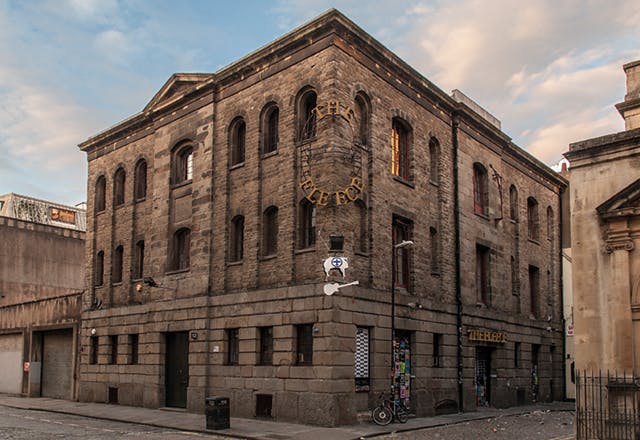 THE FLEECE
12 St Thomas Street
Bristol
BS1 6JJ
The Fleece is one of Bristol's most loved and legendary independent music venues. This intimate pub has played host to some of the best gigs I've witnessed in this city; everyone from Death Grips to Cancer Bats, through to Scroobius Pip and Jaguar Skills. Two of the guys in the Route One Bristol store play for 'Tuskens', a South West pop-punk band who recently headlined the "Riffs of Summer" festival there, which was a huge night for them! You can usually find one of us propping up the bar at most gigs or club nights, so thanks to Nathan and Jon for everything over the years. Sadly, The Fleece is currently under threat of closure due to development plans. To help keep it a part of Bristol's music scene, sign the online petition at thefleece.co.uk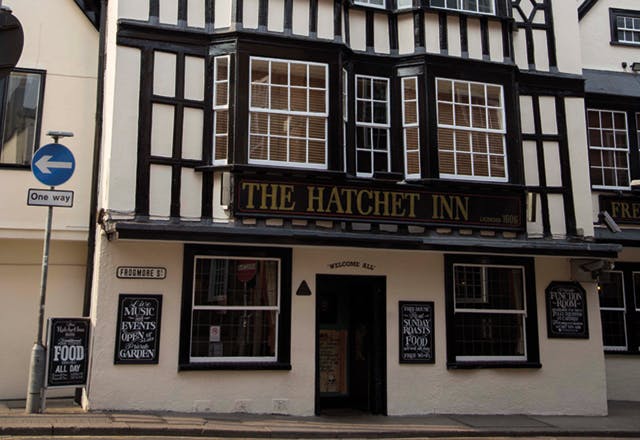 THE HATCHET INN
27 Frogmore Street
Bristol
BS1 5NA
Bristol's oldest pub, established in 1606, has human skin layered into the front door...that tells you all you need to know about this iconic pub. Not only is it the meeting point for most of our nights out; but also plays host to excellent club nights 'Gnar'n'B' and 'RE-UP' as well as holding free weekly BBQ in the garden. There's always a great vibe with the staff and locals here - I've drank the bar dry more times than I can remember!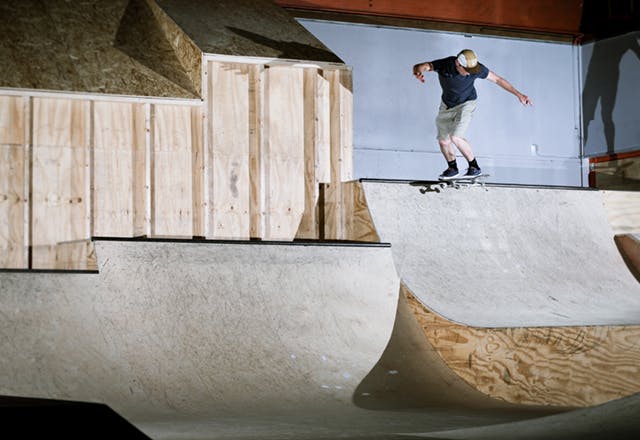 CAMPUS SKATEPARK
Watley's End Road
Bristol
BS36 1QG
Bristol is a city of so many iconic spots – the big three at Lloyds, Dean Lane skatepark in Bedminster, the DIY under the M32 bridge to name a few. For me personally, it's about the community spirit Bristol has like no other city. Campus Skatepark, an indoor wooden skatepark run by Andre and Tim, sums this up better than most as it's entirely skater owned, designed and built. A short drive/bus ride from the city, Campus is ideal for those long wet winter months where street skating days become few and far between. They offer skate tuition during term time, or if you're simply skating with friends it's open to all ages and ability until 10pm most nights.
Campus has also hosted the Route One 'Classified Sessions' and 'R1 Free Skate Day' events in the past, check out the edits on R1TV

ROLL FOR THE SOUL
2 Quay Street
Bristol
BS1 2JL
Roll For The Soul, billed as "Bristol's Community Bike Café" is a non-profit bike shop/café/workshop and is the focal point for anything two wheeled in the city. They serve up a killer veggie fry-up (an ideal start for a day at Route One) and support many local suppliers such as Clifton Coffee Co and Bristol Beer Factory. It's a great creative space for the local community with various events, live music, cycle meets and bike hire.
Roll For The Soul is located on the same block as 'See No Evil', Britain's largest permanent street art exhibition, with work that covers entire multi-story buildings from artists El Mac, Mr. Jago, Smug, Sickboy, Inkie and many more.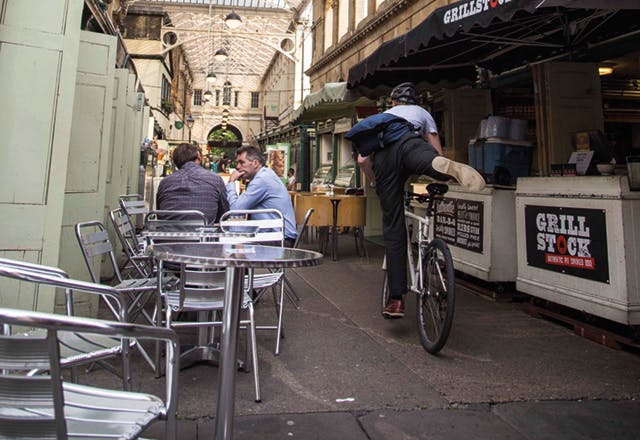 GLASS ARCADE
Corn Street
Bristol
BS1 1JQ
Located in the Old City, it's home to Bristol's largest selection of independent shops and food stalls. Whether it's traditional pie'n'mash, Southern BBQ smokehouse, Middle Eastern, Portuguese, Caribbean or Moroccan cuisine, this is my go-to spot for worldwide cuisine. Surrounded by excellent bars such as The Crown, Mother's Ruin, Start The Bus and Brewdog it's the heart and soul of the town centre.
Main Photography by Ollie Coghill
Plus images courtesy of Jason Lewer, Campus Skatepark & The Fleece
Words by Steve Moloney