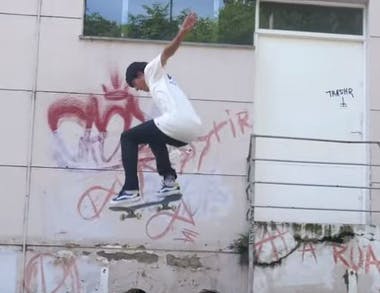 Daan brings that Van Der Linden goodness to London (alongside a cast of unquestionable depth) as the Volcom Stone crew cruise the street's of our nation's capital in this an action packed clip, filmed last summer.
 As always Volcom don't mess about when it comes to taking their talent on tour and the Big Smoke's veritable smorgasbord of skate friendly architecture was lucky enough to bear witness to the insane talents of Alec Majerus, Dustin Dollin, Harry Lintell, Axel Cruysberghs and more. And while you're all correct to assume the younger faction of the squadron certainly provide the heat, we're thrilled to report that Dollin graces us with more than just his presence, actually knocking out a hammer or two on top of being the world's best hype man.
 Of course the filming and editing is on point, but you already knew that. Everybody on the team really does dig deep to tear Dick Whittington's fabled streets of gold a proverbial new one but it's that young Dutchman Daan that once again steals the show. Fully inverting a Mctwist on Southbank's DIY quarter would be enough to consider retirement for most, whereas for Daan it's not even the best thing he did that week. The kid really is that special and god bless Volcom for paying for trips for him to keep going out filming like this – we for one seriously appreciate it!  
Sign Up...
For Priority Access to Releases, Deals & Offers
Your bag is currently empty.