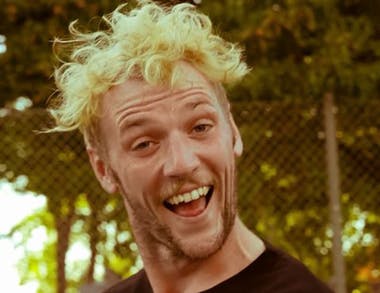 Denis Lynn is an enigma. Insanely talented on a skateboard and owner of one of the most charismatic personalities in the UK scene, it'd be easy to imagine the Belfast born ripper as one of the biggest names in our industry. The thing is though, it's questionable whether he actually considers himself a skater or even if being involved in skateboarding is doing him any favours.
Growing up as the younger brother of former Slave Pro Conhuir, party to all the connections pro stardom affords and recognised as potentially an even bigger talent, Denis sacked off skating entirely for a number of years to play traditional Gaelic sport Hurling (look it up, it's seriously gnarly). When he did return his attendance at numerous UK events cemented his name as one of the most exiting products of his generation and, as one would expect, numerous sponsorship offers came his way.
Through appearances in videos and regular magazine coverage his stock grew exponentially and then all of a sudden he wasn't around. Friends of Conhuir would regularly see him reaching out of social media, desperately trying to garner information as to where in the world his wayward brother was at any given time and often weeks would pass before he found out.
Skate film maker Phil Evans, when tasked with producing a 'Denis Lynn' part, found out first hand just how tortured a soul Denis really is and the resulting film of their time spent together, imaginatively entitled Saint Denis, chronicles some the difficulties Denis has experienced over recent years.
This is not a traditional skate section, more a documentary detailing the trials and tribulations of one of our finest characters, and we think it is absolutely essential viewing. 
A tip of the hat to both Phil and Denis; this is hard going at times but ultimately very positive and something certainly worthy of your attention.
Saint Denis from Philip Evans on Vimeo.
Sign Up...
For Priority Access to Releases, Deals & Offers
Your bag is currently empty.