To coincide with the release of his brand new Emerica x Venture collection we were lucky enough to sit down and have a quick chat with everybody's favourite modern day East Coast powerhouse: Element Pro Brandon Westgate!
From humble beginnings with 5boro, through turbulent times at Zoo York and now having found a stable home over at Element, Cranberry farmer's son Brandon has never taken the easy route and this full speed, high pop assault we now consider his trademark helped him gain a place on the illustrious Emerica footwear team back in '08.
His first two shoes were veritable skateboarding classics and his current third model, proving as popular as ever, now comes in the exclusive Venture trucks livery, complete with embroidered logo and that classic gum vulcanised sole.
To hear Brandon's thoughts on the shoe, why he's never made the full time move out west, the forthcoming Element video and much much more, give the interview a read now!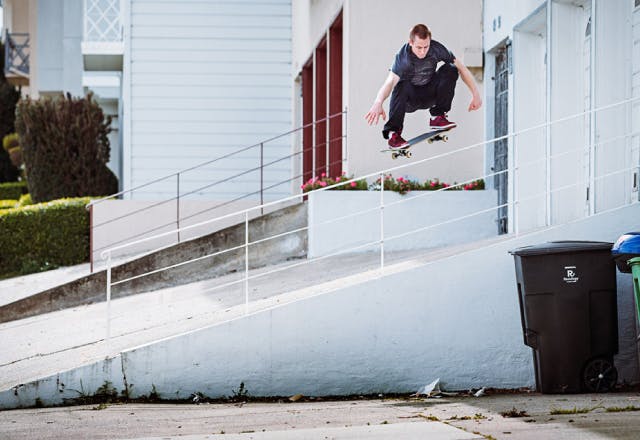 So, the Emerica Venture collection:  Tell us about it.
It's on my mid, black with gum soles and blue on the inside. It's got the venture logo on the tongue and insoles. I'm super hyped on how it came out.
Your third shoe was a marked return the basic premise of your first model, was this a conscious decision to tone down the technical aspects from the second shoe?
The third is a low with a cup sole and mid with a vulc sole and is based off the second to give people different options.
You recently joined Element after a number of years weathering the storm at Zoo, what was the catalyst to join the brand?
Donny Barley came to me and told me the team would be down to have me. He told me everything they do and got going on and I was super hyped. The teams amazing and I'm so glad they wanted me and I made the move. One of the best things I've ever done.
It's been a couple of years since you cracked your back, how serious was it and have there been any repercussions in the way you approach your skateboarding these days?
I actually lucked out and fractured three transverse process which heal on their own with no surgery. I was out for 2 months and took it slow for a month. It healed up nice with no issued and I haven't thought about it since.
Home life seems very important to you, what with you staying in Massachusetts and keeping a hand in Cranberry growing – why do you think this is? I know you were there for a little while but were you never tempted to stay with the traditional 'up sticks to Cali' route?
I'm not really sure why I stay out east… I really enjoy the seasons. I never liked Southern California, I considered moving to Northern California but never did it. The east coast is my home and you can skate and film anywhere so I don't know why you would have to live in California.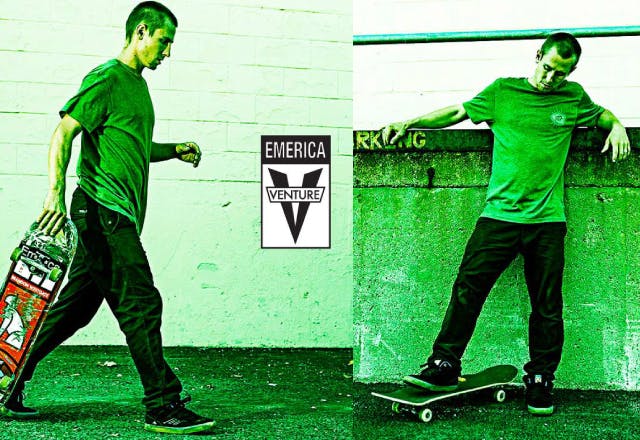 Going back to the beginning: How did you get on 5boro and how important was a figure like Steve Rodriguez to you growing up?
5boro came and did a demo at my local park and Anthony Shetler told Steve about me. They brought me on a couple trips and I became a part of the family. At the time I didn't know Steve had an influence on me but now I'm so great full to have had him looking out for me and teaching me things. I'm super great full for the whole team they all took care of me and looked out for me, thank you guys.
Is it true you've never really "been into music"?
Yeah I'm never picking just listen to what's playing in the van and go home and end up listening to that.
You follow a long line of "Eastern Powerhouses" in the vein of Sheffey, Donny Barley, Huf etc. Why do you think your side of the states breeds this style of skater?
I don't know maybe the winter I hate the winter but come spring time I'm never more excited to skate. Winters are cold dark and miserable you get stuck in doors going crazy then you get out and wanna shred.
You've ridden for a number of board brands now, from 5Boro to Birdhouse, Zoo to Element – what are the most important things you've taken from your time with each team?
I'm super fortunate to have ridden for them all and got to travel and skate so many amazing places with some of the best skaters.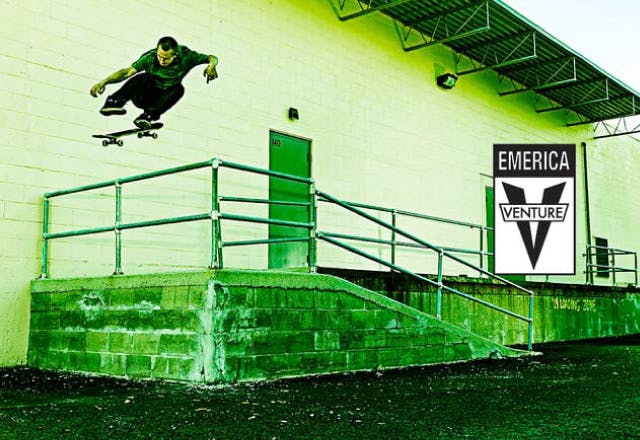 In an age where internet footage is king, can we expect to see a full length Element video any time soon?
Yeah they're talking end of next year. We've been going on a bunch of trips filming as much as we can. It's gonna be amazing everyone's been killing it.
And finally, talking of full lengths, it's been two years since MADE chapter one:  you and Jon Miner seem to have a great skater/filmer relationship – can we expect any Emerica related goodness coming our way in the near future?
Miners been working on chapter 2 with Andrew, Jerry, Herman and Figgy it's gonna be so good I can't wait for it. Everyone else is gonna film some clips to put in there somewhere. I'm heading out today to go and stay with Miner and try to film some clips.
Check out the Emerica x Venture collection online now.