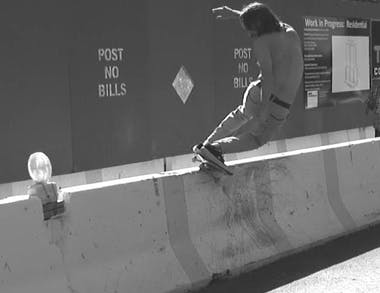 We reckon Eli Reed has definitely been binge watching Jim Greco's various solo project's on repeat, if this brand new piece on Thrasher is anything to go by. Not that that's a bad thing, far from it actually; sometimes the cookie cutter approach to skate film making gets a tad stale and there's nothing wrong with a little plagiarism if it means putting something out that people are gonna be stoked with.
Arty, slowmo, somewhat pretentious and 100% killing it,  Equanimous the video part is a picture perfect representation of the dictionary definition of the word. Showcasing some truly mesmerising switch skateboarding (and we mean actual riding and maneuvering, not just a token flip here or there), this really is an equally great piece of skate trick showcasing and cinematography.
As we said, it's definitely not original but nor is it trite; if you want something a little more thought out than your average throwaway webclip you could do a lot worse than watching this. We'll defo have it on play again before the week is through and that's a pretty rare occurrence (and therefore quite the compliment) in this 'watch it once' digital age!
Sign Up...
For Priority Access to Releases, Deals & Offers
Your bag is currently empty.