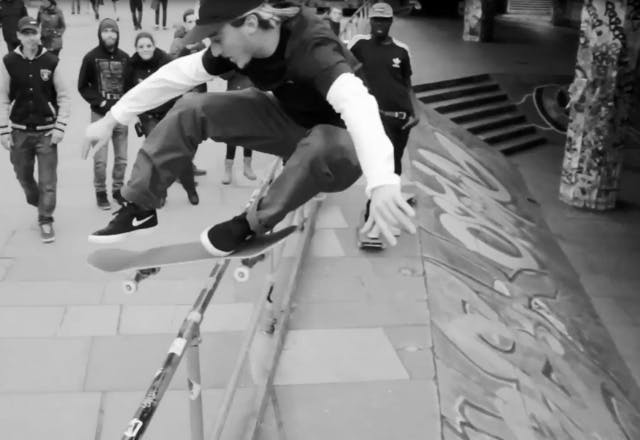 Last Friday we were invited to London to go check out the new obstacles installed at Southbank before heading off to the Nike SB Chronicles Three video premiere.
After seeing a few photos floating around on Instagram and Facebook revealing the obstacles, we were interested to see what they had produced and if this would make the whole place feel a little more like a skate plaza, as opposed to the crusty heritage we know and love about Southbank. Happily, the additions have worked to improve the place. Now there, is a new quarter pipe, a curved block and a large granite block, all to inject a little more longevity into the place. With Southbank being a such an iconic skate spot for skateboarders all over the world for 40+ years, obviously, most tricks have been done there, so to add extra to the layout definitely opens up a few new lines to keep a creative and fresh dynamic.
On the day it was a very relaxed atmosphere down at Southbank, with the feeling of good vibes, hanging out and skating with the UK/Euro Nike SB team, rather than demo hammer time.
As the evening approached, we hopped on the coach over to East London and made our way to the premiere held at Hoxton gallery.
Free beer, free pizza and a skate video, what more could you ask for?
The video itself was amazing! With full sections from Cory Kennedy, Lance Mountain, Eric Koston, Trevor Colden, Brian Anderson, Omar Salazar, Kevin Bradley, and rounded off by Karsten Kleppan.
Check out our video re-cap from the event before going and watching the Nike SB Chronicles Three video for yourself.