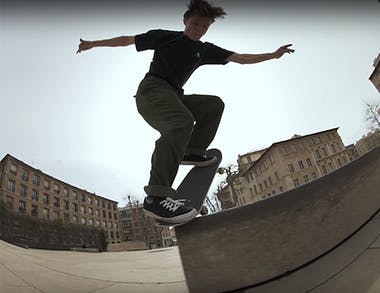 Grey Mag and James Cruikshank team up with the Euro Cons team up once again, with the magnificent 'Tarte au Ciron' the result of their collective endeavours. 
Matlock Bennett Jones, Mike Arnold, Sylvain Tognelli and more join James in the historic streets of beautiful Marseilles, with nothing more complicated a remit than to get out and shred the architectural delights on offer. Founded in 600 BC, few skate destinations can hold a candle to the tales this city can grant the willing listener and now, post Mike Arnold, those ancient boulevards can whisper stories a new; passing legend down onto the next generation of those fabled days the wavy one chose to bless their paved slabs with his skateboarding brilliance!
Ok, that's maybe pushing it in terms of the importance of this trip but the edit really is a belter; James seriously knows his way around a selection of recording devices and the ability of the skateboarding talent on show could never be in question. Perhaps the Provence-Alpes-Cotes D'Azur won't remember the tenure of the Euro Cons team but you certainly will after watching this clip!
Sign Up...
For Priority Access to Releases, Deals & Offers
Your bag is currently empty.