Earlier in the summer, when it struck us that we were getting pretty close to reaching the milestone of producing our 100th skateboarding interview, we started to brainstorm ideas about how to celebrate the occasion. Over the years we've sat down with everyone from Rodney to Gino and Reynolds to Muska; when it comes to skate stardom we've spoken with the biggest of names but equally we've never been afraid to mix things up with lesser known rippers and 'behind the scenes' industry giants who've helped shaped skateboarding in all manner of ways
After knocking our heads together for what seemed like an eternity, we settled on the idea of attempting to get an ultimate Marquee pro; milestones like this are rare occurrences indeed so we figured we might as well shoot for the stars! Topping the pile of suggested names was easy - they don't come any bigger than Tony Hawk and Eric Koston after all!
Then reality hit; of course we'd want to interview such legends (who wouldn't?) but who's to say either of them would be willing to entertain our questioning? Crisis of confidence aside, we put out the feelers to Birdhouse and made a few calls to Nike SB - all we needed was a sniff that one of them might be up for it and our 100th interview celebration would be in the bag!
Then something funny happened; whether it was the stars aligning or some positive incarnation of cosmic karma, before we knew both were down! Obviously, blessed with a luxury of riches, we couldn't decide with which of them to bestow that magical '100th' aggrandisement to, so we find ourselves today offering to you the ultimate celebration of our years of hard work in skateboarding interviews - an Eric Koston and Tony Hawk double header!
Both split into two parts and both talking candidly in ways rarely seen before, the time we spent in the company of these giants of the game was truly an honour and a privilege. We've never been the selfish type though so now we'd like to share that honour with you.
Ladies and Gentlemen, boys and girls, may we proudly present to you Messers Koston and Hawk; the 100th Route One interviews.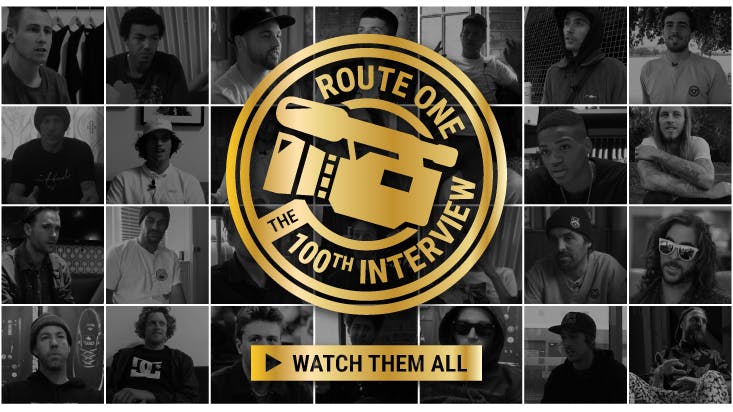 Still want more? Enter our insane competition to be in with a chance of winning a massive bunch of Koston and Hawk themed goodies!