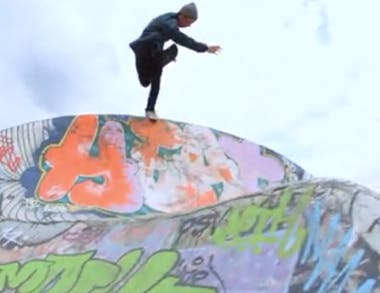 The Berrics: In Transition - Ben Raemers
The Berrics are currently running a series of videos under the 'In Transition' moniker; releasing a video every day from 10 of the world's best ramp skaters, each choosing one location to film a video part and luckily enjoi's latest pro, Walton on the Naze's Ben Raemers, is part of the action.
Filmed by Kevin Parrott at the extremely hard to skate Tottenham BMX DIY, Ben makes the hardest of tricks on that gnarled and rough concrete look easy as pie – even the mayday on the massive roundy-curvy thing (well, what would you call it!?!), despite almost sending him hurtling to a certain broken collarbone, looks far too easy for the lad. And the ender? "Whoa" is all that needs to be said; the ender is seriously nuts!
Obviously there are nine other skaters dropping sections and of course we reckon they're all gonna be worth checking out, we do doubt though that any are gonna be quite as rad as Ben's – even if we are perhaps a tad biased towards to the English gent.
Sign Up...
For Priority Access to Releases, Deals & Offers
Your cart is currently empty.