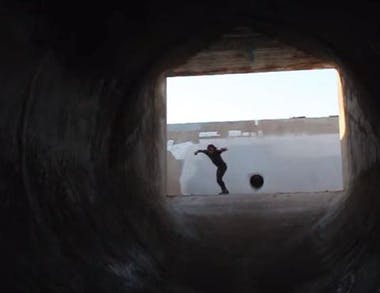 Yes, we've been sharing the 'Coffin Cuts' for weeks and you've no doubt seen numerous tricks and lines shared throughout various forms of social media, but the complete incarnation of the brand new Creature Skateboards full length is now online and it's bloody brilliant!
Straight up raw power is on constant exhibition here; this is no fashion show for hypebeasts or freestyle display for insta-famous tech heads, make no doubt about it. From the second the quick cut intro blasts onto your screen you're left under no illusion that this is straight up ripping with none of the other meaningless bullsh*t skateboarding so often falls prey to and for that we are eternally grateful!
Opening with new(ish) pro Chris Russell's transition-heavy onslaught, venturing through familiar faces Gravette and Raffin before closing with your new favourite burler Kevin Baekkel, this is nothing but hard, fast and brutal shredding that'll make you wanna get out there and scrape your knees and scab up your palms.
A final word on Baekkel before we leave you to watch it though; we knew he was good when we saw him in last year's Thrasher KOTR but jeez, does the lad step up here. This has to be one of the heaviest sections of the past decade and if you're sleeping on this lad you're only letting yourself down - nothing is gonna prepare you for what you're about to witness...
Sign Up...
For Priority Access to Releases, Deals & Offers
Your cart is currently empty.