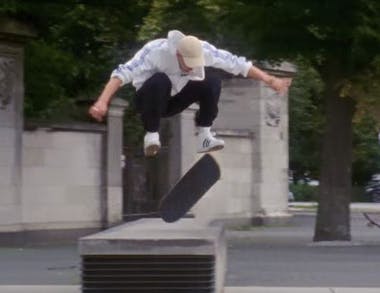 adidas Skateboarding Presents /// Magnus
Numbers Skateboards' Oslo connection Magnus Bordewick's auspicious approach to skateboarding has facilitated quite the meteoric rise into skate stardom and it's a safe bit of commentary to suggest his presence in the media has verged on ubiquitous at times over the past couple of years. First reaching international acclaim in Pekka Løvås' amazing Firetre video before joining the full adidas squad (as well as the aforementioned Number Brand), Magnus has been a constant fixture in the fast paced world of skateboarding video production and once again he's back with even more loose-armed power skating, this time captured and crafted by master lensman Chris Mulhern.

Chris, as you really oughta know, is pretty much at the pinnacle of skate video making in 2018 and this latest clip, utilizing the de rigueur HD 4:3, is every bit as beautiful as his earlier works. He manages to capture the free-flowing steeze of his Norgwegian subject as well as imposing a superbly crafted view of the world around them as they travelled - Magnus' amazing brand of burly tech has never looked so good!
What's next from the ever-present skateboarding enigma we can only hazard to guess; Numbers hasn't put a clip out for a minute and adidas never stray from dropping footage on the regs so there's every chance, especially given his non-stop work ethic, that we'll be reporting on more mind blowing Bordewick action this time next month. One can only hope!
Sign Up...
For Priority Access to Releases, Deals & Offers
Your cart is currently empty.