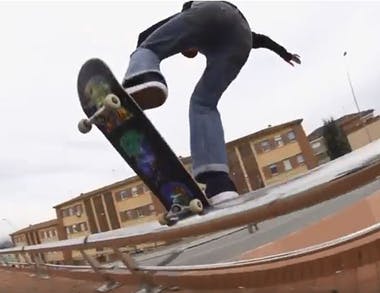 Twenty years after French Fred and the éS crew started venturing into the fabled granite strewn streets of the Catalan capital, Barcelona still draws crews from all over the world and it's easy to see why: for a capital city, it's remarkably affordable, the sun virtually always shines, the atmosphere and general vibe of the place is as friendly and laid back as you are likely to find and, most of all, there's an abundance of continuously increasing skate spots the likes of which you won't find anywhere else in the world.
So you really can't blame the Habitat boys for taking up temporary residence in its beautiful streets and it's no surprise that they came away with so much footage they've seen fit to release a B-Sides edit of their off-cuts that would put most big budget tours to shame!
Featuring Marius Syvanen, Josh Mathews, Silas Baxter Neal, and guest starring Pat Duffy, the skateboarding is every bit as fun as you'd hope and, thank heaven's above, they've managed to do the impossible and produce a Barca clip without any godforsaken Macba footage. For this alone it deserves your attention, even if it's only to prove that such a feat is possible!
Sign Up...
For Priority Access to Releases, Deals & Offers
Your cart is currently empty.