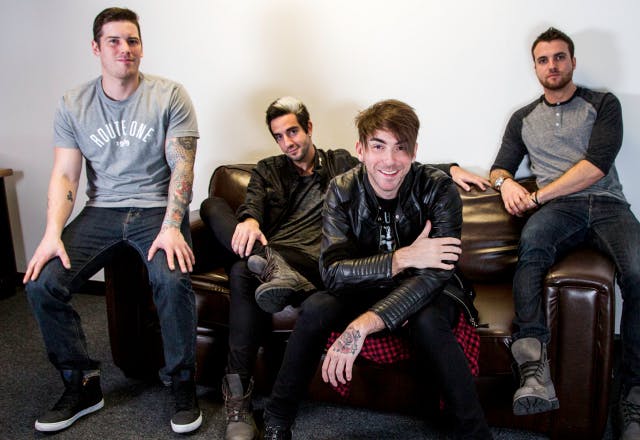 Having just completed a sold-out UK arena tour and with their sixth studio album about to drop, the foursome from Baltimore are (excusing the pun) at an all time high right now. 
R1 were given exclusive access to the band, ahead of their opening night in Cardiff, and sat down with lead guitarist/backing vocalist Jack Barakat and drummer Rian Dawson.
You're just about to kick-off your first UK arena tour, how does that feel to be playing to such huge crowds out here in the UK?
JB: INCREDIBLE! We have been dreaming of being able to headline/co-headline these sorts of venues out here. We've got some great production and we're having a lot of fun with it so far.
RD: The UK was always a territory that we thought was integral to our growth as a band, and as such we would go as often as possible. Our first time over there we were opening for the Plain White T's in 300-400 capacity rooms, so to see the growth over eight or nine years is absolutely amazing. We are so damn fortunate to have this amazing fan base that sticks with us.
How did the co-headline hook up with "You Me At Six" come about – are you guys friends or is it just that you have a mutual respect for eachother's music?
JB: We've been friends with the YMAS guys for many years. We did a tour with them in the US a couple years back and discussed bringing it over to the UK. One day after the Reading and Leeds Festival last year, Josh direct messaged me on Twitter and asked if we wanted to tour the UK together. We said yes, and the rest is history!
RD: We have known those dudes for quite some time now, but had never done a proper tour together.  I think the idea came about during the 'Spring Fever' tour that we did with Pierce The Veil. We just thought it would make so much sense to tour together in the UK, and play bigger rooms than either of us had previously. We love YMAS so much and knew that co-headlining with them wouldn't be an ego contest, so for us it was a no-brainer. I'm also a huge fan of their band, so for me, it was win-win.
Your 6th album "Future Hearts" is coming out in April; what can we expect from the John Feldman produced record?
JB: It's definitely the most exciting album we have done. John did a great job bringing a new energy to our band. Every song is pretty much a big sing-a-long anthem and we're really proud of it.
RD: Wow, pretty crazy that it's number six! This record is just damn good. We had such a good time making it, and I think it shows. I'm always a bit hesitant to try to explain a record before people have the chance to hear it, as then fans go into it with preconceived notions regarding how they think it will sound. It's classic All Time Low but better - more energy, more depth, more musicianship, more goodness!
I'm guessing both Mark Hoppus and Joel Madden were both big influences on you guys when starting ATL – how did it feel to have those dudes guest on this album?
JB: I mean we couldn't ask for two better guests on an album! Blink is obviously our biggest influence and working with Mark is a dream come true. Good Charlotte are from our hometown, so we grew up listening to them and going to their shows. They gave our little Maryland band hope!
RD: To this day both Joel and Mark (and any project they touch) are huge influences on us. We've known both of those guys for a long time now, and basically just asked if they'd do us the honour. Joel and Alex had written together for the record, so that made sense in more ways than one. With Mark, he was just a guy whose work we've always idolised (and still do), and we just had to beg him daily until he conceded. His voice fit perfectly on the song, and the lyrical content is a great fit for us to have him guest on it. I'm really excited for people to hear that song.
Giant French fries, eating cats and generally doing weird zombie s**t, the video for "Something's Gotta Give" has it all – was it a blast to shoot that?
JB: It was definitely the most fun video we have shot. It took two days and we had a great time with it. I have always wanted to know what its like to be a zombie on "The Walking Dead" so I was happy to make that dream come true!
RD: What else could you want! It was a lot of fun for me, maybe not so much for Alex. He had to wear that fry costume for about 6-7 hours each day (it was a two day shoot). He couldn't sit while wearing it, and it was hot as hell in there... But hey, lead singers can't have it all can they!
After this UK run you're off to Australia then back to Europe – has anyone told you just how little that makes sense, geography wise???
JB: Our booking agent is f***ing awesome! He gets us the best tours, and gives us the opportunity to play in the coolest cities. He also doesn't really seem to care how long we sit on the plane. Haha! To be honest we don't mind at all. Flying is a big part of our job and we have a good time together. This will be our sixth or seventh time in Australia, so we're just happy to be going back.
RD: Tell me about it! After Australia our flight plan is as follows: Auckland, NZ – Brisbane, AUS - LA - New York - Paris – Milan! Half of me is afraid we'll be asleep for the first couple shows of the Europe run. At the end of the day, the travel really doesn't bother us. We get to play music for a living, bitching about it doesn't help anyone.
Finally, tell us something no-one knows about your band…
JD: We all rub oil on each other before we go on stage. We like to be nice and lubed-up before making love to your ears!
RD: At our first show ever I wore an extra-large Dropkick Murphys shirt with an Ataris hat and we covered Anti-Flag - Punk as hell!
Photos by Ollie Coghill