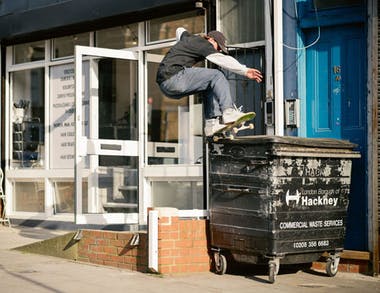 You've seen the flyers for the regional premieres, you've watched the Insta teasers and you've likely reminded yourself, through countless hours of archive footage, just how good he is. Now the time has finally come to watch the much hyped Harry Lintell Real Part!
Hosted by Free Mag and accompanied by a thoroughly interesting interview conducted by UK skate industry legend Dan Magee amongst others, Harry's part exceeds expectations on every level. Though his ability is no secret to those of us who've witnessed his stylings in the flesh numerous times over the years, it's always great to be able to watch legit street footage from somebody who is actually trying and it's safe to say Harry Lintell's definitely tried for this!
Filmed predominantly around Real Skateboards' home town of SF, this owes as much to insane hill bombing as it does to the most casually stylish of tech. Featuring a part full of enders it's almost unfathomable that Harry won't be turning pro soon; you don't make skateboarding look this good without instilling the desire to emulate in numerous people the world over. But that said, even if he doesn't, it's safe to say he's left his mark with this part and we implore you to start watching it right this moment!
Sign Up...
For Priority Access to Releases, Deals & Offers
Your cart is currently empty.