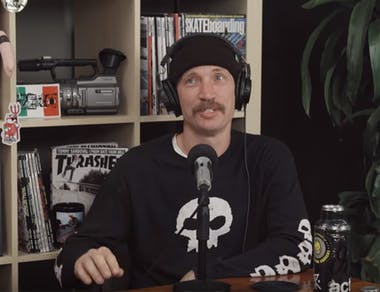 There's a select crew of people who are completely unf*ckwithable in skateboarding. Tony Hawk is one of them, Rodney Mullen is another. Then there's the likes of Gonz, Daewon and Blender; names that'll reverberate through the ages as pioneers of craft and instigators of seismic shifts that have directly shaped the very existence of this most beloved of lifestyles. 
Jamie Thomas is one of those people; single-handedly defining an era and causing a million and one teenage rippers to jump off the biggest thing they could find. If you want somebody to define the years 95-05, JT is your man.

So, with this in mind, we're massively stoked to see he's the latest resident of the Nine Club hot seat.  Clocking in at over three hours, this is the most in depth skateboarding interview you are ever likely to see, but not once does it ever drag; here's a man who's lived more in his life time than many would in fifty. If you've got a long journey this week or simply give a damn about one of the greatest in our midst, we implore you to watch it. 

Few will ever be as inspirational as Jamie and fewer still will ever be as interesting. God bless you Chief.
Sign Up...
For Priority Access to Releases, Deals & Offers
Your cart is currently empty.