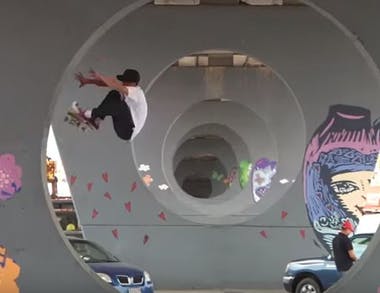 Well, whadda ya know? Converse Cons have adeptly turned their sneaker making prowess towards the production of full length skate videos  - 'Purple' is down right amazing! Seemingly unhyped in comparison to many similarly budgeted promotional pieces, the Ben Chardourne-produced opus is a triumph of understated brilliance; shying away from ostentatious drone shots and steady cams, instead focusing on the notion that the skate talent should do the talking.
Bobby De Keyser is the first to step up, producing the kind of part we always hoped he would. Seriously, his section is timelessly brilliant and will no doubt be on constant repeat for many years to come. Sage Elsesser is next in line and this lad pops higher than you, your best mate and the rest of your crew combined. No joke, he's getting on stuff it shouldn't be possible to get onto and all the while makes it look so good it almost hurts. The 'very much marmite' Kevin Rodrigues shows his face (with a thoroughly enjoyable Cory Duffel cameo, may we add) after a far too short interlude from the one and only Kenny Anderson, a man utterly blessed with skateboarding prowess. Aaron Herrington then suffers the ignominy of being thoroughly overshadowed in his shared part with legendary East Coast powerhouse Zered Bassett before the likes of Ben Raemers, Louie Lopez, Mike Anderson and more lay their claims for stand out part in the vid.
And this is pretty much how Purple runs from start to finish; barely a weak link as minute after minute of the 45 roll by in a flash, world class skateboarding captured simply. No bells, no whistles, just shredding.  This is really, really good.
Sign Up...
For Priority Access to Releases, Deals & Offers
Your bag is currently empty.