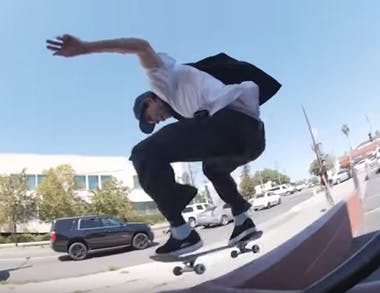 Crailtap WEAKDAYS: Koreatown
Crailtap's excellent 'Weakdays' series is back again, this time showcasing the Girl and Chocolate teams cruising around LA's infamous Koreatown district and hitting up some of the funnest looking spots we've seen in a very long time.
One of the things that has always made Girl and Chocolate so special is that it's much more a family than a business. Sure, Rick and Mike have become very rich from the brand's endeavours, but it's the cohesive unit of the teams that have made it so successful. Other brands have come and gone over their 20 year tenure, buying in the biggest talents but never really gelling; Girl and Chocolate have always been teams that are genuinely the best of mates and these Weak Days edits show the spirit and camaraderie of the company is still there, thriving to this day.
Obviously the skating isn't mental, it's only fun time shenanigans, but with a crew running this deep in talent it certainly isn't throw away either. And, with spring in full bloom and the evening's light extending ever later as each day passes, these kind of sessions where just just go out and play with your mates are on the cards daily. Get watching this and get inspired; having a laugh with your crew is all skateboarding has ever been about.
Sign Up...
For Priority Access to Releases, Deals & Offers
Your cart is currently empty.