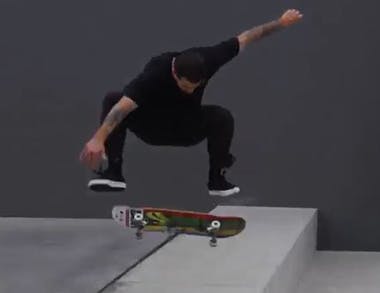 Skate Mental's 'Aunt Tammy Vol.1'
Nope, we've watched it too and we've no idea where Brad and the boys came up with the name for this vid. We suppose it makes a change from the recent VX1000 filled trend of naming videos with the use of one irrelevant word but whether it's a positive change or not remains to be seen!
What is positive however is the level of skateboarding in this brand new clip from Skate Mental. Naysayers may well have feared for the board company's future after Shane O'Neil's departure, but it's safe to say it's in fine hands if this footage of Dan Plunkett and new pro Jake Anderson is anything to go by!
HUF ripper and Buffalo, NY native Dan open proceedings in this fun filled seven minute mixtape, getting tech on big street tranny and cruising some down hill lines, as well as dropping the lesser seen switch flip wallride mid part! Jake Anderson (not the Cornish vert ripper) then takes the mantle and more than proves himself worthy of his ascension to the professional ranks; his ender at the banked basketball court in CPH is seriously serious! This is a definite 'pre skate hype' watch if ever there was one.
Sign Up...
For Priority Access to Releases, Deals & Offers
Your cart is currently empty.