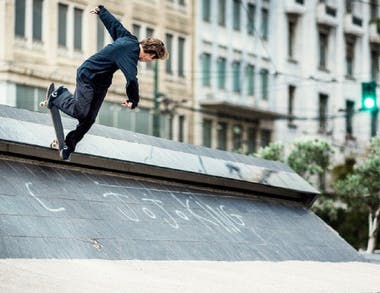 We tried. We really did. In a world of seemingly infinitely available skateboard media we really tried our hardest not to share two things from Thrasher in the same week. And then Atlantic Drift? It's not as if there's anybody left, who's even been in the same room as a skateboard in the past decade, that isn't aware of Jake Harris' cinematically epic series, quite simply some of the greatest skate film making going on right now.
So does this really need us pushing it? After all, Gary Rogers was creaming over Matlock Bennett Jones' double wallie on Skateline and it's on nearly 100k views on Youtube already - it's safe to say they've built up such a reputation that everybody stops what they're doing and clicks play the second a new episode appears on their suggested videos playlist.
But the fact remains this is just so good we'd be doing a disservice to skateboarding to not be sharing this with you on the off chance you haven't seen it yet! This is Tom Knox with his brilliantly deft footwork, this is Mike Arnold with his borderline madness manifested into his uniquely creative eye and this is Jake Harris producing some of the best skate cinema we have the pleasure of watching. This is Atlantic Drift and, yet again, we're sharing this with you.
Sign Up...
For Priority Access to Releases, Deals & Offers
Your cart is currently empty.