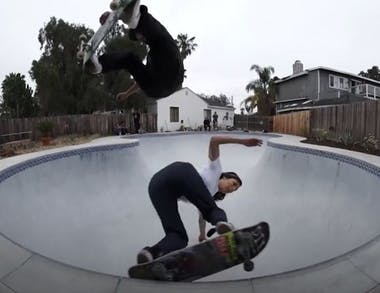 Madness 'Foolish Behaviour'
When we shared Clay Krainer's insane 'Madness' part a few weeks back, we remarked that we hoped their might be the possibility of seeing a few clips from the other guys on the team in the not too distant future. Not for one second did we imagine we'd be getting pretty much a full promo so soon!
Featuring tricks from the entire squad, including our own Sam Beckett (who coincidentally filmed his ender during our South Africa trip the other month), this seven and a half minute piece illustrates just what a great squad the lads have put together, and exactly why this new brand from the legendary Dwindle stable should be getting you seriously excited right about now.
Antipodean ripper Jack Fardell opens up proceedings, and as soon as the screen flickers to life you get a huge sense of the brand's strong identity. Drawing heavily from American propaganda films of the 30's and 40's, Madness knows what they are doing and how they wanna do it.  Transition rippers to a tee (and some of the best in the world at that) alongside a strongly defined aesthetic means only one thing in our eyes - this is something we're fully backing and we reckon there's every chance you will too!
Sign Up...
For Priority Access to Releases, Deals & Offers
Your bag is currently empty.