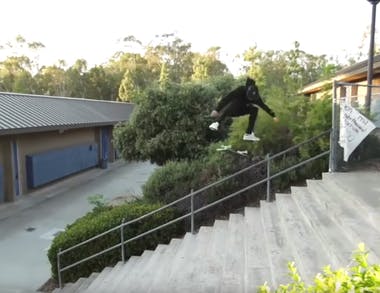 A seven minute clip dedicated to not rolling away from a trick? Yep that level of narcissism can only come from Nyjah! Nah, we're only messing, the trick in question is the illusive El Toro backside flip (Sheckler knows the pain) and so we're hyped to watch one of the best in the world share the story of a battle lost with one of the gnarliest spots in the game.
To be fair, the most shocking thing in this video, aside from the weak-ass 'Skate Stopping' attempt of the El Toro high school janitorial department, is that the battle in question was actually three years ago. Just think about that for a second; in a world where it's virtually impossible to snap a board without it ending up on social media somewhere, Nyjah trying one of the gnarliest street tricks of all time remained virtually secret until this day. Madness!
Beating the social media machine aside, this is a highly informative and enjoyable clip. None of us are ever going to know what it's like to jump down something as big as El Toro so it's hard to empathise with the level of the battle; you might get two hours or more trying a ledge trick down your local but eight tries on El Toro was enough to take Nyjah out of action for quite a while. In fact we're amazed the lad wants to go back for another round knowing just how brutal his first time there was!
Sign Up...
For Priority Access to Releases, Deals & Offers
Your bag is currently empty.