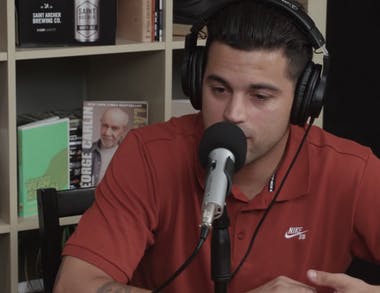 The Nine Club Ep.12 Paul Rodriguez
Chris Roberts' and Roger Bagley's brilliant 'Nine Club' series of chats reaches episode twelve with the visit of perhaps the biggest name in skateboarding over the past decade, Mr Paul Rodriguez.
Moving away from the traditional questions and answers scenario, Chocolate pro Chris conducts more of an informal conversational vibe, which has produced some truly memorable insights so far, and this latest edition continues in that vein. Over the course of an hour and twenty minutes (which very surprisingly at no point drags) the guys discuss everything from P-rods tentative first steps into skateboarding sponsorship through to his new drinks venture (and the terror of quitting a number of sponsors along the way).
Paul is the consummate professional and is a very clever man to boot so it's refreshing to see him get more than a few 'Saint Archers' deep. By the end he really starts to show a few signs of being more than a little tipsy and, by proxy, opens up a tad more than usual, giving quite an insight into what it is to be the most successful skater of the past decade. 
This is a truly great interview and it seems Chris and Roger have hit on a definite winning formula - their grown up version of 'Weekend Buzz' is killing it right now!
Sign Up...
For Priority Access to Releases, Deals & Offers
Your cart is currently empty.