This spring Altamont brings us another interesting and unique collection, this time in collaboration with streetwear VIP and artist Erik Brunetti.  Brunetti began his career throwing graffiti up in NYC in the mid 80's, where his drive and hard-hitting artwork led to him to feature in art shows with the likes of pivotal British artist Tracey Emin.
His design and graphic-lead work lent itself well to clothing and posters, which soon grew into Brunetti founding and creating streetwear brand FUCT, alongside pro skater Natas Kaupas. Along with brands like Stussy, FUCT pioneered the streetwear movement which today spans cultures and fashions worldwide.
Brunetti's inexorable connection to skate and street culture has led to skateboarding kingpin Andrew Reynolds enlisting his bold designs for this season's collabs with his skatewear brand, Altamont.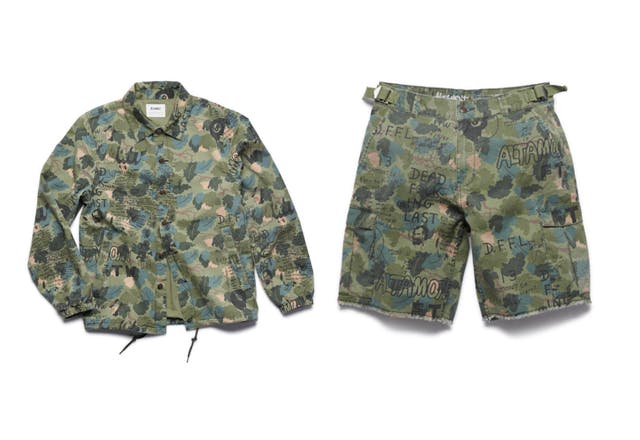 The collection takes Brunetti's varied and often obscure influences, and mixes them with Altamont's high quality skatewear to create a wearable collection, which retains the individuality of Brunetti's style. Elements of 60's Americana – faded photographic prints, camo – are combined with references of Greek Mythology; almost random combinations of words create slogan garments with an interesting, artistic edge. The collection features a mixture of logo and graphic tees on a palette of black, white and army green alongside bold graphic slogan crews, whilst a camo jacket and short combo customised with Brunetti's doodles form the signature pieces of the collection.