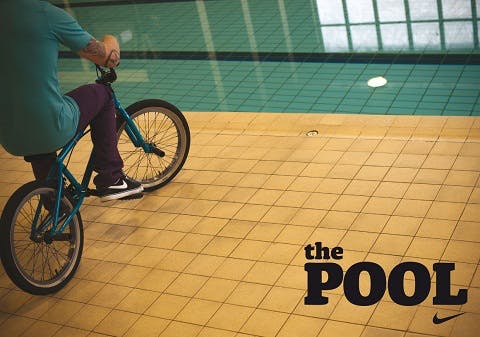 You've seen two of the teasers but now it's time to let the cat out of the bag...
Nike presents The Pool - a project that transforms an ex-local authority swimming pool in Dagenham, East London, into a world class BMX park.
Nike have drained over 1.5m litres of water and set to work on creating something very special, but riders of all abilities need to be quick as this fantastic building is set for demolition. The Pool will be free to ride, take lessons or just watch the action from Monday 16th May. The 4-week programme of core events, community interaction and beginner workshops run through to Sunday 12th June with bikes, supervision, pads and helmets available for those who need it.
To launch The Pool, this Saturday, Nike have invited 10 world class riders to choose 3 of their crew and show us what they've got for a share of a €25,000 purse. With an incredible array of lines on offer, this invite only event will present a new competition format and demonstrate the unfeasibly high standards that BMX park and street riding have reached in 2011.
Of course Route One will be there this Saturday to bring you a report of all the action that went down at this special event!
The first shots of the completed park will be revealed in the final teaser later today, Wednesday 11th May, where we find out once and for all what happens at The Pool.
Team captains: Garrett Reynolds, Dennis Enarson, Harry Main, Jason Phelan, Alex Kennedy, Ruben Alcantara, Brian Kachinsky, Drew Bezanson, Van Homan and Sebastian Keep
Open public sessions at The Pool:
21st and 22nd May
28th May - 5th June
11th and 12th June
Be sure to check our Facebook page at www.facebook.com/RouteOne for updates.
To view the latest season from Nike 6.0 click here: http://www.routeone.co.uk/Store/Brands/Brand-is-Nike+60