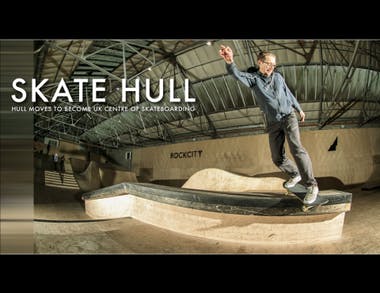 "It was announced to us yesterday at Rockcity Skatepark by Hull Council officials that the city was moving forwards to become the UK leader in positive actions towards skateboarding.
In an unprecedented move, Hull councillors told us that alongside the recently established Skate Hull outfit, they are to start the ball rolling to introduce skateable architecture into public spaces such as parks and venue areas.
These 'honey pot' city centre areas would also serve to link up the existing ten parks that are already available around the Hull area (there's another 10 plus skateparks in the East Riding too), with a dedicated website eventually being established in order to help skateboarders find their way around these spots and parks.
Future plans include a huge skateboarding event hosted in the city centre aimed at attracting big names and showcasing Hull and as a designated place for UK skate tourism.
Following closely in the footsteps of the hugely successful Skate Malmo, Hull is looking to be the first really skateboard friendly city in the UK as it enters its tenure as the UK City of Culture 2017.
The first wheels of this momentous long-term project will be set in motion shortly, with work on the initial Skate Hull projects set to commence early 2017.
Exciting times are ahead – watch this space!"
Text - Sidewalk magazine
Sign Up...
For Priority Access to Releases, Deals & Offers
Your cart is currently empty.