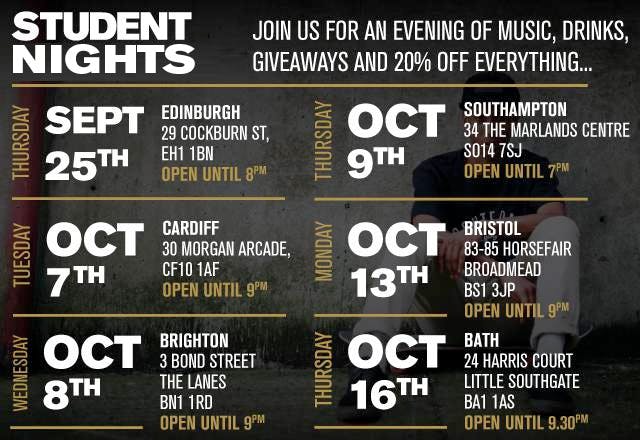 It's that time of year again! Students are making their way back to University across the country which means one thing; it's time for this year's Student Discount Nights!
Route One will be offering 20% off everything* across our 6 stores exclusively on the dates listed above. Be sure to head to your local store to get amazing discount along with drinks, snacks, musics and goody bags!
*Full price items only. Valid student ID required.
Route One Bristol – Monday 13th October until 9pm
83-85 Horsefair, Bristol, BS1 3JP
Route One Bath - Thursday 16th October until 9.30pm
24 Harris Court, Bath, BA1 1AS
Route One Brighton – Wednesday 8th October until 9pm
3 Bond Street, Brighton, BN1 1RD
Route One Cardiff – Tuesday 7th October until 9pm
30 Morgan Arcade, Cardiff, CF10 1AF
Route One Edinburgh – Thursday 25th September until 8pm
29 Cockburn St, Edinburgh, EH1 1BN
Route One Southampton – Thursday 9th October until 7pm
34 The Marlands Centre, Southampton, SO14 7SJ