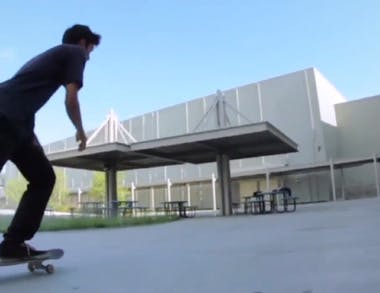 Recent years have seen the rise of a new phenomenon in skateboarding: The Youtube hero. Whether you are in your thirties (and the idea of uber technical tricks done at 2 miles an hour makes you cry) or 13 (and in awe of the incredibly precise movements kids from the back of beyond with zero sponsors are doing) one thing is for certain – the sharing aspect of social media means this new kind of skate icon is here to stay.
One such cat that has risen to the top of the cream is Christopher Chann; you probably saw him at Battle of the Berrics or may even be one of the near 200 thousand Channel subscribers lapping up his every skatepark based move– either way, you'll be stoked to know he's actually gone and released a full street part and, fair play to the lad, it's really pretty good!
Sure, there are illegal moves a plenty and an extra push or five would not go a-miss but the kid certainly can skate. A number of ledge NBD's close the part down and some of them are truly bonkers:  we can guarantee thousands of kids the world over will be getting more shinners than a hockey team  trying to murderflip into crooked grinds over the weeks and months to come…
Sign Up...
For Priority Access to Releases, Deals & Offers
Your cart is currently empty.