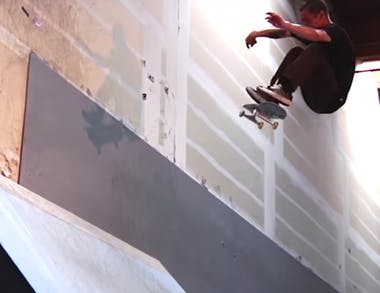 Geoff Rowley's 'Promo' Part
What's Geoff promoting? Vans footwear most probably. Since his departure from long time sponsor Flip Skateboards, Geoff hasn't made any hint towards which direction he is headed board wise. He is still repping Vans hard though and it's in their warehouse that this amazing mini ramp clip is filmed.
We all knew Liverpool's finest son was at ease on medium sized transition; his Volcom  'Chichagof' part is cemented in the minds of all who witnessed his ramp based brutality. That doesn't make this any less entertaining though, if anything it only served to whet our collective appetites, knowing he was definitely going to do something special with this!
And do something special he does. Disregarding the brilliant cameo appearances from everyone from Ed Templeton to Christian Hosoi, Geoff's stand alone footage is breath taking. His head high flip to stall combos return, as do some seriously hard sub box manoeuvres. And this isn't your average park micro either, it's definitely six foot tall at its smallest point so the ramp is no joke! 
Geoff killed it for years repping the Flip brand hard, by the evidence on show here he's continuing to do so, regardless of his current board sponsorless  position.
Sign Up...
For Priority Access to Releases, Deals & Offers
Your cart is currently empty.