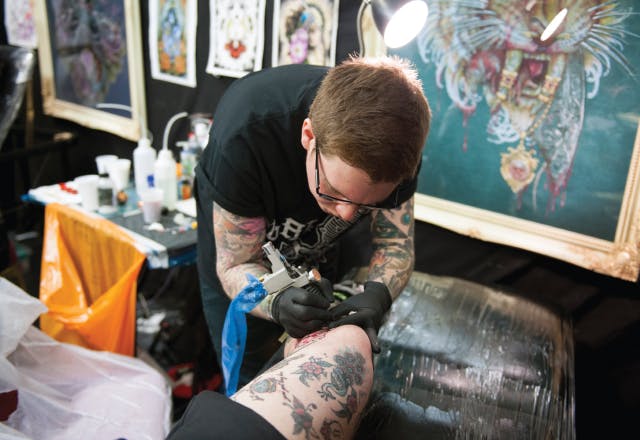 London-based artist Will Thomson is making waves with his modern take on traditional tattoo styles. He also grabbed our attention with his debut capsule collection for UK streetwear brand 'Scarred For Life', so we checked in with him at the recent Brighton Tattoo Convention in between sittings…
"I really had no interest in tattoos until I was around seventeen; no one in my family had any so it was just something I was raised to think sucked! Ha ha.
I always did art at school because it was the only lesson I could mess about in and do my own thing. After school I studied Graphic Design at Kingston College, where I started becoming interested in tattoos as my friend Marlon had a ridiculously nice Japanese tattoo from Ian Flower. It was around then I started looking into the history of Japanese art, for a project I was working on at the time, and there was a Horiyoshi exhibition on at Somerset House that blew my mind.
After hours and hours of researching Japanese wood block printing and ancient art, I decided it was time to book a tattoo. As I'd never seen Japanese tattoo work to the quality of Ian's, I booked with him and he did my first sleeve. The more I discovered about tattooing, the more I started liking traditional work and really enjoyed drawing loads of designs.
Eventually I was invited to work at Ink Lounge Tattoos in London, where I still work now. If it wasn't for my boss, and now close friend Justin Tan, I wouldn't be tattooing and I'm glad he saw the potential [in me] because I can't imagine doing anything else now.
It's so great to meet new people every day and wake up to go to a job you love!
After a year at Ink Lounge, I started to do one day a week with tattooist James Robinson at his shop Gilded Cage in Brighton. I now work there twice a week, as well as London, which is a great shop full of talented artists.
The designs I've done for the SFL range are mainly things I love tattooing - tigers, panthers, chains, girls etc. and they're all things that not only look great in tattooing, but are simple enough to work on clothing too. I was really pleased to be asked to help out with such an open-minded project because it meant I could draw things I really enjoy doing. I'm also a massive t-shirt freak so helping out on anything, clothing-wise, is something I'm always up for!"
The Scarred For Life Thomson Tattoos Collection designed by Will Thomson is available to purchase now!