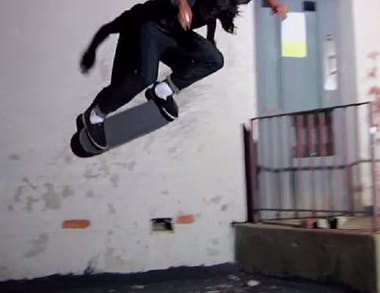 The Re-education Of Jeremy Leabres
Toy Machine pretty much assaulted the entire skate world's eyeballs at the back end of last week with this 'pre full length' release: Nine minutes of utter destruction featuring a few tricks from most of the team and the gnarliest 'rail fest' of a part we've seen in a long time from the title boy Mr Jeremy Leabres.
Starting off with a two minute montage of all your favourites (that's the likes of Leo Romero, Collin Provost, Billy Marks, Johnny Layton et all) set to the dulcet tones of Modest Mouse at their snarliest and then followed by those six minutes of handrail and hubba annihilation by Mr Leabres, this is the kind of video you'd have bought on DVD a decade ago and, what's more, you'd have been well stoked to pay for it.
Front blunts through the tightest of kinked round rails, flip backtails on head high banisters – you know if someone has what it takes to open up the latest Emerica release (MADE) that they aren't the type to mess about with 2mph tricks on tiny bankles. Nah, Ed Templeton knows how to pick 'em tough and raw and once again he doesn't disappoint. Bring on the full length!
Sign Up...
For Priority Access to Releases, Deals & Offers
Your cart is currently empty.