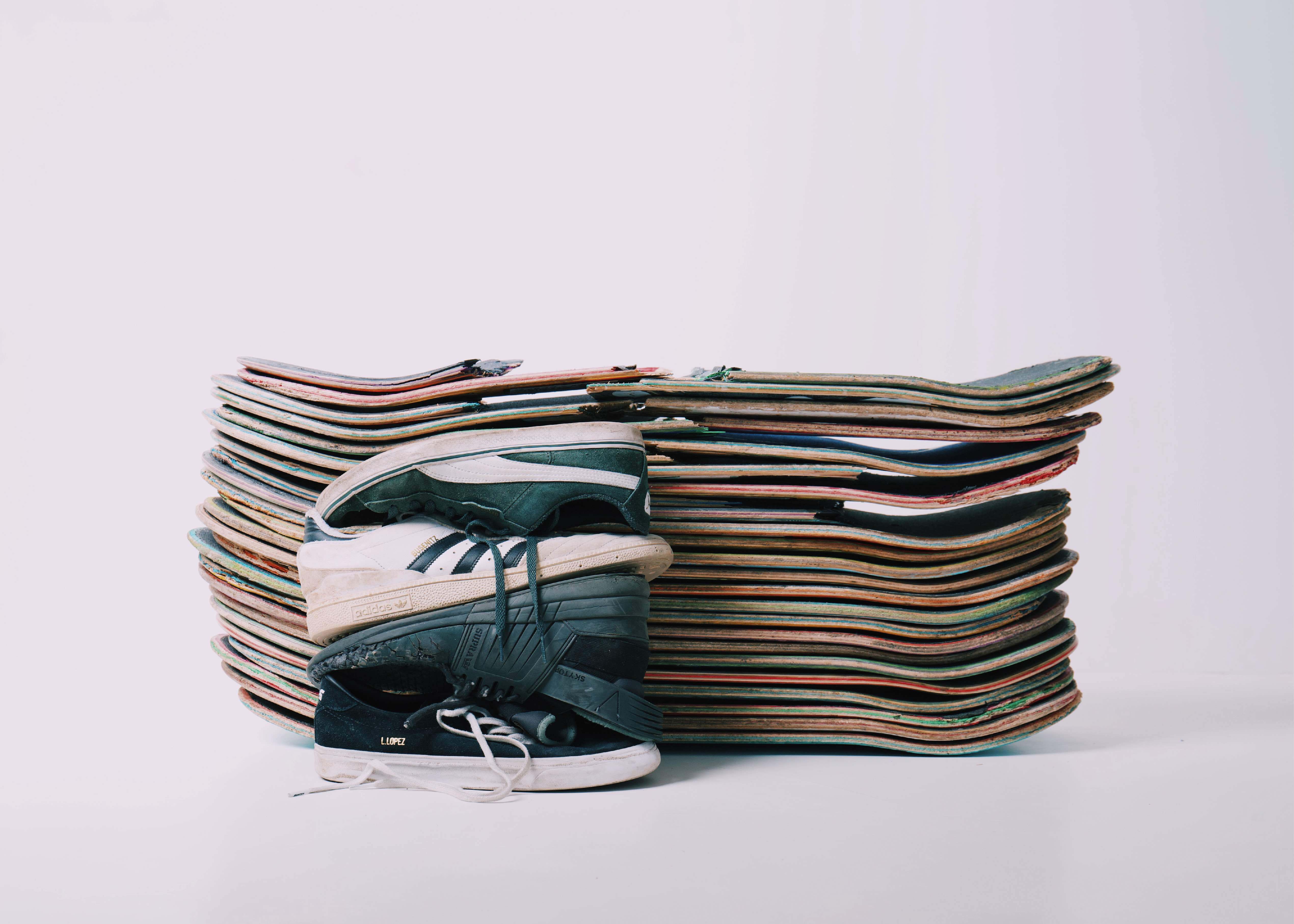 Circularity refers to a concept and approach that aims to minimize waste and maximize the use of resources by keeping products, materials, and resources in a closed-loop system. It is a departure from the traditional linear economy, which follows a "take-make-dispose" pattern, where products are manufactured from raw materials, used, and then discarded as waste.
Skateboards: Deckcycle
Skateboards tend to get bashed about a bit, and whilst we endeavour to sell decks that last the test of time, the truth is that even the best decks have a breaking point and after years of wear and tear there comes a point when we need to replace our old friends. 
At its peak, around 2 million skateboards end up in landfill in the US. On that basis, an estimated 300,000 probably end up in landfill in the UK. That's not good news! So, with our friends at Re:Ply, we've set about making sure the skateboards we sell can be repurposed at "end of life", thereby reducing the strain skateboarding puts on our planet and its natural resources.
Our Deckcycle scheme is up and running across all our stores. If you've got an old, broken or battered board, bring it in and we'll recycle it, into a happy retirement and we'll give you £5 towards your new deck to say thanks for choosing to Deckcycle.
Just ask for a Deckcycle Discount when you recycle a board at your local store.
  What happens to the decks?
Once collected we send a bulk delivery to Danny Aubrey of re:ply skateboards. Danny transforms them into newly skate-able boards and deck-art. Danny sees resource where others see waste: even the grip-tape gets repurposed as sandpaper, and off-cuts are donated to No Comply, where they get made into jewellery and homewares.
Clothing: Glasgow vintage store & swap rails
In February 2023, we opened our first Vintage Store on the first floor of Route One Glasgow. Our goal is to extend the lifespan of streetwear clothing, reduce our reliance on new manufactured clothing and to do so as affordably as possible.

Here you'll find unique, one of a kind, preloved garments, with a low carbon footprint at a reasonable price.
Swap rails 

You'll also find new Swap Rails popping up in our stores, offering customers the chance to swap their pre-loved clothing with items of similar value on the rail, so you can refresh your wardrobe without needing to buy new.
When you bring your clothing into a participating store, the staff will grade your garments and award them a colour depending on their value and condition. Then you can Swap with any garment on the rail with a similar colour! It's that simple!
Walk in with something old and out with something new, but please only bring in clean and non-faulty items.
 Packaging 
Back in 2020 we decided to make our packaging more circular and reduce the amount of plastic we were producing and so made the switch to 100% recyclable and compostable paper mailing sacks and store carrier bags.
Our bags are produced using FSC certified materials, which means the wood used to make them is farmed from responsibly managed forests. Re-purposing or recycling the bags is best to reduce demand for new raw materials and the energy used to make them. However, as they are also fully compostable, meaning they will break down naturally without polluting the environment.
Our next goal is to eliminate the non-degradable plastic from our garment packaging. We are in the process of changing to biodegradable and compostable bags wherever possible for our Own Brand products, and we are now beginning to work with the brands we stock to discuss their single-use plastic policies. We hope for a day when we have zero single use plastic in our supply chain.
Keeping our products and their materials circulating for as long as possible is one of the areas we're working on to improve the sustainability of our business, but we're also taking measures to reduce our emissions and track our supply chain.
Sign Up...
For Priority Access to Releases, Deals & Offers
Your cart is currently empty.