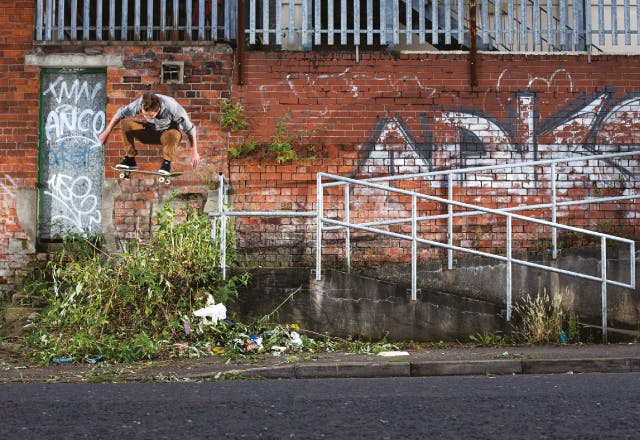 Conhuir Lynn is one of (if not the) most established skateboarders, to hail from Ireland. From growing up skating with Belfast local legends such as Bernie Rea, to direct sponsorship on one of Jamie Thomas' companies, he has experienced and achieved what all young skateboarders dream of.
More commonly known for having one of the best 360 flips in the game, he earns the title 'Dr. Tre' hands down. Now residing in his hometown of Belfast, we caught up with Conhuir to see what he's been up to since his unfortunate knee injury in Bristol a few years ago. We asked him to give us a full insight into what actually happened, the surgery needed and what helped him get back into the swing of things.
He also explains what he's been up to, in and out of skateboarding, and how he's finding it being back in the skateboarding saddle. 
Honorary knuckles to the big man!
Now then Conhuir, can you give us a brief lowdown of your knee injury and recovery?
Well I hurt my knee in 2012, it was at the DC Big Three event at 'Lloyds' in Bristol. I was trying a trick down the Three block and just got a little too involved. I'd hurt it about ten minutes before the real damage happened, but naively, I carried on skating and ultimately put myself out of action for two years.  It's done quite a bit of damage and when I got the results back from my MRI scan I almost turned green. It was a horrible feeling realising how badly you have injured yourself.  I'd torn my ACL completely in half, few fibres of my MCL were intact and my meniscus was shredded. The doctor used the word "banjaxed" when he was describing the damage, saying that if I was older than 40 there would be no point in fixing my knee because the damage was so bad; but because I was younger they would "give it a go"!
Eventually I was put on a waiting list for surgery. They said it would be around nine months, I caught a lucky break five months into my waiting and someone cancelled their appointment, letting me have that early space. The surgery went really well and I got out the same day - this was only stage one of recovery though. I had to do exercises every day to stop the new ACL and surroundings muscles from seizing.
A few months into this I could still put weight on my leg and my muscles had all worn away. I made the decision to buy a road bike to see if it would help. Safe to say, it did. A solid year of cycling everywhere and anywhere and my leg started to feel normal again. I still hadn't skated at this point though.
Eventually I decided to try and skate. The strange thing is that all the tricks are still there, but you don't have the strength and confidence to do them. It was really difficult for me to get my confidence back. It was a scary prospect going through all of that rehab again. Over time it comes back and you realise that your knee is strong and they have basically given you a new one… Thank god for the NHS!
Since you've been on the mend, what pastimes have you discovered outside of skateboarding?
As I mentioned, road cycling was a big help for me, and I also really enjoy it. I've also gotten really into golf. Some people have the wrong idea about golf. If you play it with the same mentality you skate with, it's one of the most rewarding, enjoyable things you can do. Just make sure you play with like-minded people.
How has it been getting back into the flow of things, skateboarding-wise?
It's good. I'm really enjoying skating again, having little projects to work on. I've missed it if I'm honest. Just rolling around is something you miss and it's nice to have it back. I struggled with confidence, but when I realised I practically had a new knee, I started to relax and became more fluid.
You had a nice six page 'Hometown' interview in Sidewalk issue 216 recently; how did that go?
It was excellent. I've finally found the perfect skating conditions: one photographer, one skater, one filmer (optional) haha - Heath Kirchart style. I just prefer the missions to be mellow nowadays … I got a few photos I'd been wanting to shoot for a few years too, which was a real pleasure.
What's on your schedule for the remainder of summer, before the harsh winter sets in?
I started back at college to catch up with the education that I stepped out on eleven years ago, but I'm also working on an edit for WeSC. I've got to film a part in the coming months and hopefully it will appear online.
Any last words?
Big thank you to Route One and all of my sponsors who stayed with me throughout my injury.
Interview by Josh 'Manhead' Young