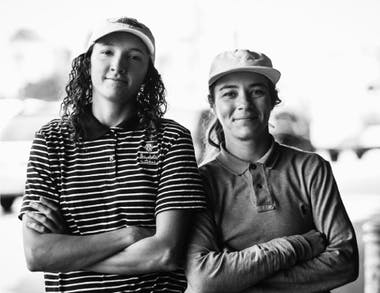 Amy Ram and Helena Long - Welcome to the team!
Here at Route One we've been doing our bit to support rad skaters for a very long time. Regardless of gender we've backed people we feel represent our core beliefs and always without the slightest hint of tokenism. Go back eleven years and you'll find Amir Williams and Sam Bruce as founder members of the squad, fast forward five to the era of Bradfordian pairing Dougy and Lois; if people rip and we like what they do then we are proud to have them on our team.
And, with that in mind, we could not be more stoked to announce the latest additions to the Route One squad, Helena Long and Amy Ram! 
London Native Helena is as OG as it get's in UK ladies skateboarding. A massive name in the scene stretching back a decade and a half, the first female recipient of Sidewalk's hallowed 'First Light' feature and the first British woman to be documented skating a handrail; few people rip like Helena and even fewer with as big a grin on their face! Partner in crime Amy, also hailing from our nation's capital, is nearly as deep in the game and shreds every bit as hard, meaning these two are the perfect pairing to take the proud reigns of the Route One skate team onwards and upwards, into the future!
To celebrate their addition we brought the ladies over to sunny Bristol to film a welcome clip. The British weather, being typically British, didn't afford us long before the heavens opened but short and sweet sessions at Daveside and the Deaner (followed by the thankfully precipitation proof M32 DIY and Campus) gave the girls ample time to showcase their dedication to skateboarding and having some fun. We reckon it's safe to say the future of the squad is in good hands!
Sign Up...
For Priority Access to Releases, Deals & Offers
Your bag is currently empty.