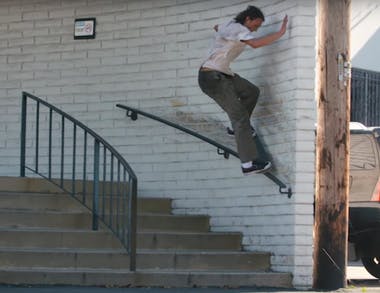 When Vans' latest creative offering 'No Other Way' hit the airwaves two weeks ago we can only imagine the collective groan that went round the Smith household when Evan's certainty to win this year's SOTY award was snatched out of his hands by the last minute brilliance of Real's Kyle Walker.
Actually, Element Pro Evan likely didn't care really; if anything we imagine he would have been stoked to see some rad footy - probably as stoked as we've been each time he's blessed us with his on board brilliance in 2016. Going on the of this retrospective compilation from Thrasher, the DC rider put enough smiles on our faces to counter all the bad that has accompanied life throughout the past 12 months, heaven knows how we would have coped without him!
Kicking of with head to groin contact at the Dime Glory Challenge and featuring some of the most creative free flowing lines you're ever likely to witness, every second is a treat of the highest order. The one good thing to take from Evan not winning SOTY (if he does actually care at all) is that he's going to have to try even harder next time around and that can only serve to keep us all smiling throughout 2017, no matter what else those next 52 weeks may bring.
Sign Up...
For Priority Access to Releases, Deals & Offers
Your cart is currently empty.