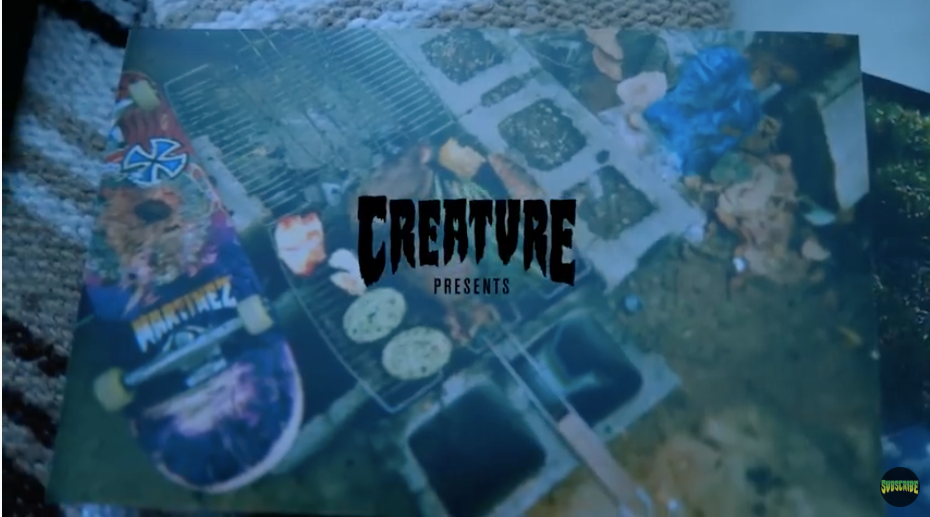 Best of 2020: Skate Review
Best of 2020: March - Lurkin' with Milton Martinez

As we look back at 2020 it's easy to forget that, beyond the virus that touched each and everyone of us in ways we could never have imagined, in a lot of ways life kinda went on like normal.
Back in March, as the whole world was locking down, Creature skateboards celebrated the achievements of 2019 Thrasher SOTY Milton Martinez with the release of Lurkin', a 14 min long creation equal parts archive archaeology and modern day madness.
"Starting with tricks from his awe inspiring ¡DEMOLICIÓN! part before splicing VX clips from his formative years in Argentina with current day interview footage, the video gives a satisfying glimpse into the life of one of the gnarliest to ever do it.
Factor in insane hillbombs, his dad's mean backside boneless, a penchant for BBQ and a 'never say die' attitude that carries him through some of the most brutal tricks ever committed to film and it's safe to say this is a quarter of an hour of stoke you'll be watching again and again and again."



Best of 2020: April - Credits

No 12 month retrospective is complete without the customary "video of the year" declaration and in 2020 one body of work stood head and shoulders above the rest...
"Filmed and edited by Shari White, Vans' first ever all female skate video 'Credits' is a truly ground breaking piece. Not only as it showcases the incredible passion and talents of the company's women's division but because it stands up on its own merit as a bloody good skate video.
Produced to showcase the global community of girl's skateboarding, Shari's vid not only celebrates the personalities of the featured riders but captures some truly great skateboarding from the all-star cast. Filmed over an impressively meagre 10 months (remember, classics like 'Sorry' or 'Fully Flared' were many years in production) the tricks and styles on show are more than enough to build hype for when our current lock down finally lifts.
Of course Santa Cruz' Fabiana Delfino, Girl's Breana Geering and Polar's Una Farrar don't disappoint - you don't get hooked up by the biggest brands in the world without merit - but we have to admit to our bias and say we're most stoked with Route One team member Helena Long's contribution; you've gotta support your own!"




Best Of 2020: July - Tea And Biscuits

Whilst it may seem a tad gauche to include a piece from one of our own Skate Team riders in this end of year review, it would have been disingenuous of us to pretend this wasn't one of the highlights of the past twelve months.
"Wow. Just wow.
That's all there is to it!
We'd heard snippets of the tricks they were trying (obviously we were sworn to secrecy), and the day we interviewed J Thaxx he was nursing sore legs from the vertwall frontside hardflip battle, but we had no idea that the homage to the legendary 'Cheese and Crackers' was going to be quite this good!
With hindsight though, should we have been surprised? Alex Halford is perhaps the most exciting vert rider this country has produced since Andy Scott and Jordan Thackery is a certified skate wizard. Knowing they were spending the winter months hankered down in Nottingham's Flo skatepark with a genny and enough tea to fuel an army should have been all we needed to know that this was gonna be the best thing we'd see all year!
Released by the perma-rad Lovenskate through Thrasher, this is something else; we've watched it about 15 times already and it's safe to say we're spotting new highlights every time we do. Hands down, best video of 2020 so far!"


​Best of 2020: July - Mason
What better way to wrap things up than a celebration of the newly crowned SOTY, the one and only Mason Silva! Though the Manhattan Beach native put out a shedload of footage in 2020, this Nike SB backed eponymous piece was the jewel in his crown. You wanna know what it takes to be pro in 2020, watch this and learn from the best!
"If you haven't seen this insanity yet then what are you doing? You're proper blowing it mate!
From the second that seemingly impossible Thrasher cover hit the shelves back in Feb we've been desperate to see what Mason was working on. So as soon as news of the part reached us we set every alarm we had for the 15th, making sure we were sat in front of a phone/tablets/laptop the second the video went live!
And since then we've probably watched it fifteen times or more. Why? Because this is skateboarding as proper as it gets! Pushing like he's running from wolves with a scent of blood, attacking the obstacles in his path as if they're standing between him and his freedom - this is what happens when you mix an exceptional trick selection with a man not afraid to push his boundaries. This is what happens when Mason Silva steps on his board!
So yeah, if you haven't seen this insanity yet what are you doing? You're proper blowing it mate, click play right now!"
Sign Up...
For Priority Access to Releases, Deals & Offers
Your bag is currently empty.