OVER 38,349 VERIFIED 5 STAR REVIEWS
OVER 38,349 VERIFIED 5 STAR REVIEWS
OVER 38,349 VERIFIED 5 STAR REVIEWS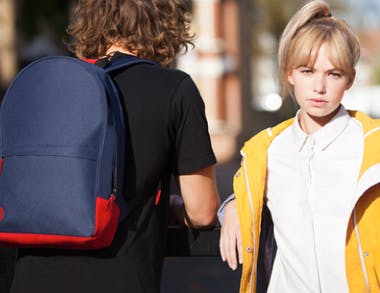 Best School Backpacks & Top Bag Features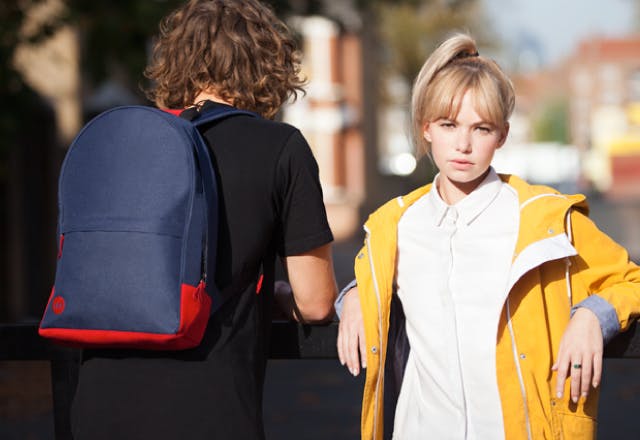 With so many backpacks available, it can sometimes be a daunting task to find the best bag for you. They come in many different forms and can blind you with fancy features and unknown acronyms, before you know it you're paying out mega bucks for something you don't really need. So whether you're looking for practicality, durability, comfort or fashion, here is a run-down of the top features to help you choose the best backpack.
Padded shoulder straps
Most bags nowadays come with padded shoulder straps as standard, but the amount of padding can vary. A couple of books in your school backpack will cope with a limited amount of padding, however your shoulders may appreciate more padding if you're lugging multiple textbooks, lunch and your sports kit around.
Media port
Created for convenience, threading your headphones through the media port on your bag enables you to not only to keep your phone or MP3 player safe and dry but also to be tangle free from excess wiring. Created using a rubberised cross hole, this port ensures no rain gets inside your backpack whilst also staying neat and discreet.
Internal media pocket
Often used alongside a media port, the media pocket offers an internal pouch which can be used to hold various devices, allowing for hassle free listening and freedom of movement. Secure fastenings will hold your device snug, and padded or lined pouches for added security ensure your electricals stay safe.
Laptop/Tablet sleeve
Inside the main compartment of backpacks, the laptop sleeve is tucked away on the back panel of ethe bag and is useful for keeping yourself organised whilst ensuring that the casing and screen of you laptop does not get damaged. If you are carrying precious cargo, you may want to ensure the laptop sleeve is padded or even fleece lined to safeguard your valuables.
Front compartment
A common feature on most backpacks is the front pocket compartment. Perfectly suitable for carrying smaller items which may get lost in the main pocket and easily to reach for quick access. Some smaller pockets are built into the bag and appear flat and some whilst some others offer larger pockets which are attached to the front of the bag.
Suede/heavy duty base
The durability of a backpack will determine how long the bag will last. A reinforced or heavy duty base can limit the wear on the corners of the bag which inevitably spends a lot of time on the floor. The materials used can vary from hardwearing suede to a water resistant nylon.
Carry handle
Such a simple feature that can be easily overlooked, and if you hang your backpack up this handle can be vital. Carry handles are intended to hold the weight of the bag so the reinforced structure is designed to ensure the backpack doesn't rip or tear.
Reviews of the top backpacks for school
Mi-Pac Tartan Backpack - Black Watch/Yellow
The Mi-Pac Tartan bag is a great affordable backpack with numerous essential features. The back panel and straps are padded for comfort and the carry handle and base are faux suede for durability. There is a padded laptop sleeve inside, media pocket with Velcro closure and media port above. The front compartment is deceptively deep providing a spacious pocket with faux suede zip pulls.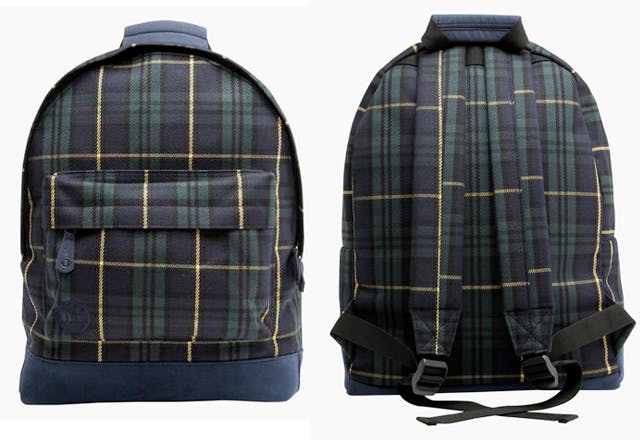 Element Cypress Backpack - Black
The Element Cypress bag is a great sized backpack with a 26 litre capacity and twin compartments. There are also two side mesh pockets and a front pocket to organise your belongings. All pockets have zip closures with narrow rope pull cords and there are multiple attachment points on the front of the backpack. There is an internal padded laptop sleeve as well as a padded back with embroidered logo and ergonomic shoulder straps.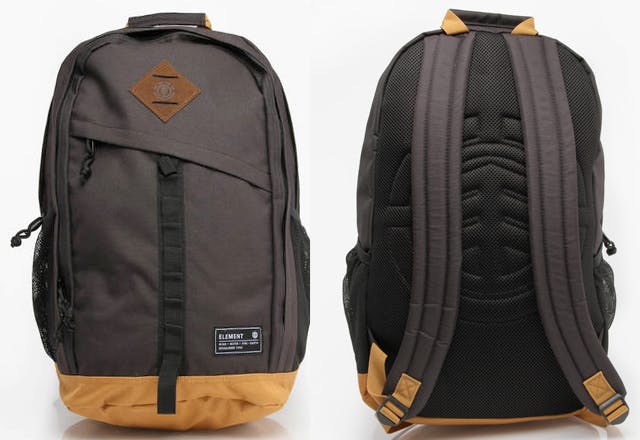 Vans Alp D'Huez Backpack - Red
The Vans Alp D'Huez bag is bursting with high quality features inspired from mountaineering. The bag fabric has a durable water repellent (DWR) coating and a handy rain cover in a hidden bottom zipped pocket for the more torrential weather. It has ergonomic shoulder straps with moisture wicking fabric (which absorbs moisture from clothing and enhances evaporation). It has a padded back, suede bottom panelling and three zipped side and front pockets. Inside there is a padded laptop sleeve with an elasticated Velcro fastening to keep it secure and all zips are finished with suede zip pulls.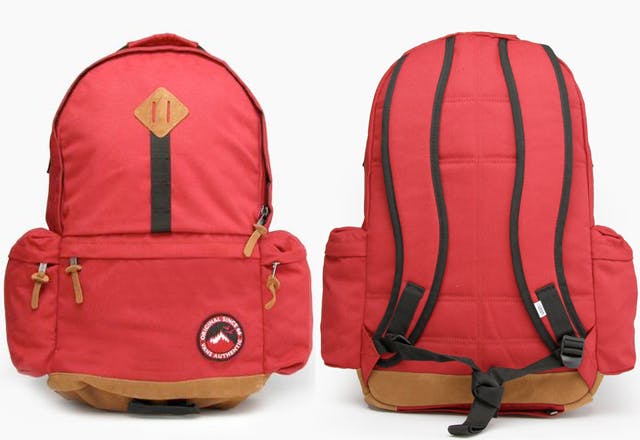 Herschel Supply Co. Little America Backpack - Navy
The Herschel Little America backpack has a 23.5 litre capacity and has extremely padded shoulder straps and ventilated air mesh back padding. The front pocket with a key clip has a double magnetic popper fastening flap and hidden zip closure. The main compartment has Herschel's signature striped red and white lining with a cinch top closure and magnetic popper straps. Inside, the laptop sleeve is fully padded and fleece lined, there are two media pockets with Velcro fastenings and a media port to the side.