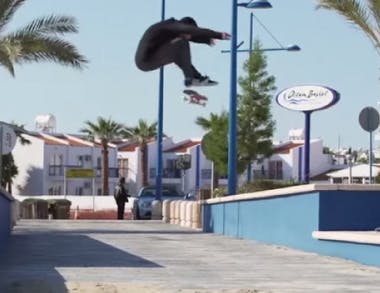 Buffalo's Finest: Jake Donnelly
Brand collab parts seem to be all the rage these day and, if they're owt like this Real x adidas Jake Donnelly section, then we're all for 'em!
It may well start off more arty farty than a Dylan Reider hair gel commercial (jokingly of course, he rides for Real for fluffs sake; as if Thiebaud would put up with that!) but once it gets going this is real (no pun intended) powerful stuff;  Frontside flipping proper road gaps in lines in Barca, fakie flipping benches, pushing downhill and standing tall on some waist high flat bars – Jake does not mess about and it shows.
It's a Dan Wolfe production so you know the filming and editing are first class, the music on the other hand is splitting opinion but stuff like that is always gonna come down to personal preference. One thing we reckon we can all agree on though is that Mr Donnolly has pretty much mastered the art of the switch flip; there are two or three examples in this clip alone that are amongst the best ever committed to film – you can't argue with that!
Sign Up...
For Priority Access to Releases, Deals & Offers
Your cart is currently empty.