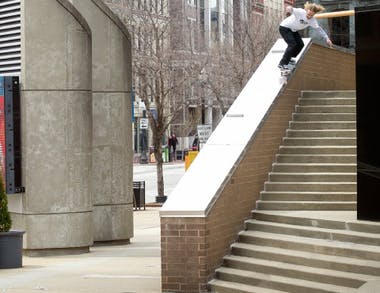 Dan Lu 'Programming Injection'
Thrasher's serialisation of Toy Machine's latest full length Programming Injection has been going on for nearly three weeks now and as much as we've enjoyed the drawn out process of top quality handrail hammers dropping every few days, it's the past week or so that we've really been most excited about.
Firstly there was Leo Romero's frankly mind-blowing section on the 21st; it may be nearly a decade since the Fontana, CA native took the SOTY honours but time hasn't slowed him down one bit. The full speed attack of his skateboarding was every bit as impressive as it was back in his Foundation and Baker days and the nose manny nollie flip ender has to be one of the gnarliest clips of all time!
And then on Monday came your boy Dan Lu, everybody's favourite hand railing hippy and quite possibly the happiest dude in the biz. Having spent a lot of time on the injury bench since Vans' 2015 release Propeller, it's great to see Albuquerque's finest back to his best, utilizing that creative eye and his penchant for getting buck; there's not many folk that would have considered fifty fiftying off that roof at the start and even fewer that could have got it in the bag! 
People may say that the full length is dead and that individual parts are all that matters these days; it seems that by combining the best of both worlds, Toy Machine may well have dropped on the perfect formula. Click play and get some Daniel Lutheran goodness in your life right now!
Sign Up...
For Priority Access to Releases, Deals & Offers
Your bag is currently empty.