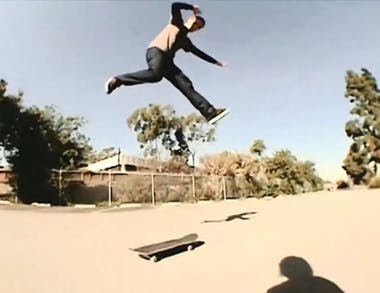 Dave Mayhew Pops Up In Panda Patrol!
Remember the Osiris D3? If you don't... you've never lived! Back around the turn of the millenium, skate shoe design was a little different to how it is today. And that's not to say we were living in the dark ages back then. Hell no, truth be told the technology used in the skate shoes of the day was often far in advance of the basic sneakers most of us favour in 2018. Top of the pile in terms of technical features was undoubtedly Osiris Footwear's fabled D3 2001 and Dave Mayhew was the pro who attached his name to it.
Technical to an almost wizard-like level, Dave rode for a number of brands in the Dwindle stable, starred in 'The Storm' (the biggest video of the era) and was pretty much a rock star back in the day. Then, following his decision to leave Enjoi prior to the release of 2006's 'Bag of Suck', Dave pretty much disappeared from the industry and we really have little clue what he's been up to since.
Well, that was before Enjoi decided to give the man a guest pro model and include brand new, up to date footage of him in their latest 'Panda Patrol' episode! Combine it with a 'catch up' interview with MJ on Thrasher (and a whole host of shredding from the rest of the Enjoi squad in the vid) and you have exactly what Enjoi always delivers - great skateboarding, fun times and a group of friends that genuinely enjoy skating together. Great innit!?!
Check it out here on ThrasherMagazine.com
Sign Up...
For Priority Access to Releases, Deals & Offers
Your cart is currently empty.