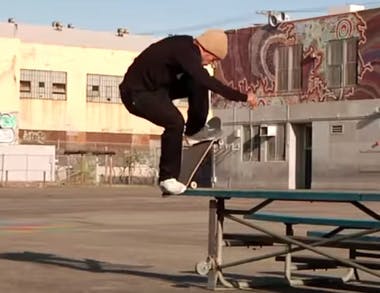 DC Shoes Presents Choppy D
Twenty minutes of brand new and unseen clips from the likes of Evan Smith, Tiago Lemos and Wes Kremer may well sound too good to be true but when it comes to producing the goods, you know DC Shoes never fail to deliver! 
Out touring the world throughout 2017, the international team produced so much stellar footage over the course of twelve months it seemed a veritable travesty to leave the hitherto unreleased trickery on the virtual cutting room floor. So, here we are, finding ourselves subject to pretty much a full length release from one of the realest brands in the industry, completely unhyped on a cold January morning! 
Though we lead in by naming the aforementioned 'top draws' of Wes, Evan and Tiago, DC don't hold back in supplying you with visual treats from all corners of the team. Enjoi's Brazilian-cum-Portuguese steeze merchant Thaynan Costa is in the mix, holding it down alongside legendary pop purveyor Matt Millar and new blood ATV ripper T Funk. In fact pretty much the whole crew pops up at least once so if Droors Clothing's Shoe Division has a rider you like, you're definitely getting a treat at some point in the next twenty minutes!
Sign Up...
For Priority Access to Releases, Deals & Offers
Your cart is currently empty.