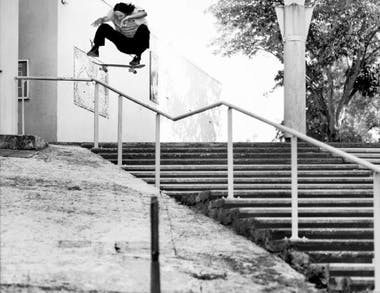 Evan Smith 'War And Peace'
Though he may have been pipped to the SOTY post by the high flipping Tyshawn Jones, intergalactic space child and lover of the old microdose Evan Smith still maintains his place as one the foremost exciting skateboarders on the planet right now with this truly mindblowing collection of footage from the Element 'Peace' filming missions.
Mixing alternate angles from the full length piece alongside unused clips and some truly epic slams, Starheadbody proves you don't need the sycophancy of a Jake Phelps awarded trophy to be one of the best there is. Having fun in a multitude of locations (and managing to stay away from the dried dog poo this time), Evan rips no matter the terrain. 
If you're planning a winter getaway over the next few months this is definitely the right clip to bring the hype your way - when it's raining outside and dark at 4pm, Evan makes those granite streets of Barcelona look oh so appealing it hurts!
Sign Up...
For Priority Access to Releases, Deals & Offers
Your cart is currently empty.